Danny B. Harvey & Mysti Moon ‎– Hell Cat Stomp (2014)
Danny B. Harvey & Mysti Moon ‎– Hell Cat Stomp (2014)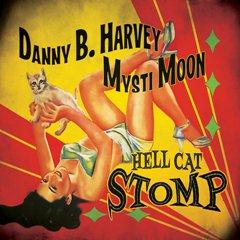 1 	(This Train Is going) Straight To Hell
2 	Black Betty
3 	Shake It On Down
4 	When The Levee Breaks 	
5 	St. James Infirmary Blues
6 	Hell Cat Stomp
7 	I'm Wild About That Thing 	
8 	See That My Grave Is Kept Clean
9 	Send Me To The 'Lectric Chair 	
10 	That's It, That's All
11 	House Of The Rising Sun
12 	Hard Moon Boogie

Vocals, Guitar, Bass – Danny B. Harvey
Vocals, Percussion – Mysti Moon

Danny well deserves the acclaim that hails his each waxing. Through decades of chameleonlike stylistic transmogrifications, he has ascended to due in the guitar gods pantheon. Thing is, no matter the genre he's conquered, Danny has maintained the elastic twang and kaleidoscopic hot rodding that fans recognize. Not that many players are instantly identifiable stylists. Easily integrating fleet fingerpicked nods to lauded predecessors like Merle Travis with his own heady ambitions earned Danny 2nd runner up in Guitar Player's 2007 Guitar Hero competition.
And in erstwhile Devil's Daughter Mysti Moon (she of the glad-all-over golden tones) he has found head-turning complement. This lively outing basically follows in the mold of earlier Danny/Lynda Kay Lonesome Spurs efforts, if perhaps more blues-grounded. Danny's sinewy Tele wends its knowing way through the back-country of Americana to the urgings of acoustic strummings, bass, suitcase-kicked beats, and soaring, swooping voices. Mysti's sweet sutriness and Danny's sometimes growled drawlings gambol and sway in fit fashion.
Five rewardingly gritty originals rub shoulders with seven public domain ramblings. Hear America first.
Recommended "(This Train Is Goin') Straight To Hell," St. James Infirmiry Blues," "Shake It On Down," "Hell Cat Stomp," "I'm Wild About That Thing," "Hard Moon Boogie". ---DC Larson, nodepression.com
download (mp3 @320 kbs):
yandex mediafire ulozto gett bay files