The 4 Blackjacks – Two Sides (2013)
The 4 Blackjacks – Two Sides (2013)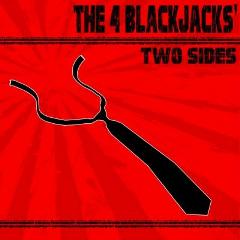 1. Anything
2. Bad Bi*ch Ride Me
3. Not a Part
4. I Lost
5. Theater of Hypocrisy
6.Jailbreak
7. Boogie Go
8. How Do They Bleed
9. Final Rush (feat. Andrea Palumbo)
10. Curtain Down

Musicians:
Alfred Steel (Alfredo Trojse), Rhythm Guitar and Voice
Black Hamer (Alessio Caponi), Lead Guitar
Steven Firefingers (Andrea Amato), Bass 
Reed Rash (Giuseppe Beghin), Drums

Debut Album for the Hard Rock band from Italy.

The band was born in 2008, not in a basement, as the legends say born every band, but in an apartment on the first floor. Without thinking twice, the four immediately began a intense songwriting work, totally brakeless. Experimentation has been so much, the will of grow and be listened to has been more, so much that six month later the band is on a stage. The first experience in studio has been in 2011, this time in a basement, according to the imagination: it has been during those ten days of tireless work that "Don't Massificate Me!", first EP of the band, came to life, and was printed on more than 1000 copies and sold during their gigs and online on their website. But it was during April 2012 that the band found a turning point: the decision and the realization of their first high quality Single. Under the artistic guide of Andrea Palumbo, the four walked in the Revolver Studios (Guidonia), to record "How Do They Bleed", first extract of what will be their first album.
Then, the latest big work of The 4 Blackjacks, took place the 2nd of August 2012, date of the first recorded live show. Today, after 4 years of The 4 Blackjacks, more or less one hundred gigs, their first album, Two Sides,has been released on november 2nd, together the videoclip of "Jailbreak". It's not over...it's DONE. and something new it's starting. ---the4blackjacks.com
download:  yandex mediafire mega
Last Updated (Thursday, 21 September 2017 13:35)