Early Girls Vol.1 1995 (2008)
Early Girls Vol.1 1995 (2008)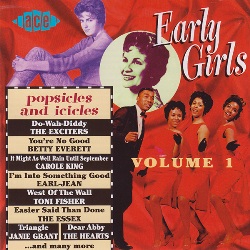 Volume 1: Popsicles And Icicles (1995)

01. The Exciters – Do-Wah Diddy
02. Betty Everett – You're No Good
03. Shirley Ellis – The Name Game
04. The Cookies – Chains
05. Carole King – It Might As Well Rain Until September
06. Earl-Jean – I'm Into Something Good
07. Skeeter Davis – I Can't Stay Mad At You
08. Little Peggy March – I Wish I Were A Princess
09. Linda Scott – I've Told Every Little Star		play
10. Janie Grant – Triangle
11. Toni Fisher – West Of The Wall
12. Dodie Stevens – Pink Shoe Laces
13. The Sensations – Music, Music, Music
14. The Hearts – Dear Abby
15. Reparata & The Delrons – Whenever A Teenager Cries
16. The Murmaids – Popsicles & Icicles
17. Robin Ward – Wonderful Summer
18. The Paris Sisters – I Love How You Love Me
19. Bonnie Guitar – Dark Moon
20. The Aquatones – You					play
21. The Angels – 'Til
22. Kathy Young – The Great Pretender
23. Rosie & The Originals – Angel Baby
24. The Teen Queens – Eddie My Love
25. The Chantels – He's Gone
26. The Shirelles – Dedicated To The One I Love
27. The Blossoms – Son-In-Law
28. The Essex – Easier Said Than Done

Leave it to one of England's premier re-issue labels to put together a compilation that rivals Rhino's excellent "The Girl Groups" series. While a few of these songs fall outside the strict definition of girl groups (1961-1965), this is a super collection and at 28 tracks you won't find a more generous single disc compilation.
There are a few late Fifties hits: 13-year-old Dodie Stevens' "Pink Shoe Laces," Gale Storm's "Dark Moon," and the Aquatones' "You." The rest are early-Sixties classics and also-rans.
You get the Exciters' version of "Do-Wah-Diddy" (later a No. 1 for Manfred Mann), Betty Everett's "You're No Good" (which Linda Ronstadt took to No. 1 in 1975) and the Cookies' lead singer Earl-Jean's minor hit "I'm Into Something Good" (which would become Herman's Hermits' first U.S. hit).
There are seven songs that overlap with the Rhino series, but that's a minor complaint. Where Rhino gave you the Angels' oft-anthologized "My Boyfriend's Back," here you get their earlier 1961 hit "'Til." While the Rhino series included three Shirelles' songs, it did not include their classic "Dedicated to the One I Love" found here.
This Ace release also includes several artists not on the Rhino series: "The Name Game" by Shirley Ellis, "I Wish I were a Princess" by Little Peggy March, "I've Told Every Little Star" by Linda Scott, and Rosie & The Originals' "Angel Baby."
Don't think of this as a competing series with Rhino, but a companion series. And just like Rhino, you get crisp, clean sound and extensive liner notes on each of the songs and the artists. HIGHLY RECOMMENDED ---Steve Vrana (Aurora, NE)
While the second volume of the Early Girls series is heavier on chart hits, the first collection offers more choice rarities (which, truth be told, is the real value in retrospectives of this kind). A handful of these 28 cuts are overly cloying (Earl-Jean's "I'm into Something Good" and Little Peggy March's "I Wish I Were a Princess" are almost sickeningly sweet), but the good far outweighs the bad -- alongside familiar singles like Shirley Ellis' "The Name Game" and the Shirelles' "Dedicated to the One I Love" are forgotten classics like Toni Fisher's amazing "West of the Wall" (an echo-drenched ode to Cold War-era romance) and Dodie Stevens' delightfully goofy "Pink Shoe Laces"; early favorites from Phil Spector (the Paris Sisters' "I Love How You Love Me") and Carole King (the superb "It Might as Well Rain Until September," her lone solo hit before breaking through with Tapestry a decade later) round out this smartly compiled, well-annotated and consistently engaging set. ---Jason Ankeny
download (mp3 @320 kbs):
Last Updated (Tuesday, 30 January 2018 22:17)