Puhdys – Live Im Friedrichstadtpalast 1979 (2009)
Puhdys – Live Im Friedrichstadtpalast 1979 (2017)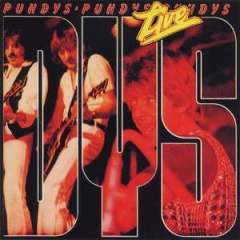 CD1
01. Sturmvogel 05:43
02. Perlenfischer 05:22
03. Sterne verspäten sich nie 08:19
04. Ikarus II 08:05
05. Tallahassee Lassie 04:46			play
06. Reise zum Mittelpunkt der Erde 06:27

CD2
01. Wilde Jahre 05:39
02. Alptraeume 03:28
03. Ikarus 07:22
04. Lied fuer Generationen 04:01
05. Doch die Gitter schweigen 05:08		play
06. Lebenszeit 04:22
07. Alt wie ein Baum 02:45
08. Long Tall Sally/Party/Rock And Roll Music 04:18
09. Wenn ein Mensch lebt 03:39

Personnel:
Dieter "Maschine" Birr - guitar, vocals
Dieter "Quaster" Hertrampf - guitar, vocals
Peter "Eingehängt" Meyer - keyboards, saxophone, backing vocals
Harry Jeske - bass 
Gunther Wosylus - drums

Die Puhdys sind eine 1969 gegründete deutsche Rockband. Sie zählen zu den bekanntesten Rockbands der DDR und haben seither zahlreiche weitere Alben veröffentlicht.
"Irgendjemand im Saal, der auf Rock'n'Roll steht?" rief Maschine in die tosende Menge. Anlässlich ihres 10-jährigen Bühnenjubiläums luden die Puhdys im Januar 1979 in den alten Friedrichstadtpalast. Viele gute Konzerte, wie die von Louis Armstrong oder Kenny Ball and his Jazzmen, hatte der alte Bau in Berlin erlebt. Die Puhdys rockten das Haus, woraus dieses Life-Album entstand, das als das erste Life-Album einer DDR-Rockformation gilt. Dass hier die Post abging, ist unüberhörbar. Mit Titeln wie "Sturmvogel"; "Ikrarus2"; "Doch die Gitter schweigen"; "Alt wie ein Baum" oder einem Rock'n'Roll-Medley heizten die Band ihren Fans so richtig ein, die stimmgewaltig dagegenhielten. Angetrieben von dem harten, aggressiven Schlagzeug von Gunther Wosylus boten die Männer um Dieter Birr eine spektakuläre Show vor ausverkauftem Haus, das kurz danach geschlossen wurde. Gunther Wosylus ging noch im gleichen Jahr eigene Wege. Geblieben ist dieser phantastische Konzertmitschnitt.
Die Puhdys are a veteran German rock band, formed in Oranienburg, in what was then East Germany, in 1969, although they had been performing together, with various lineups, as the Puhdys since 1965. They continue to record and tour. Although they are especially popular in their native eastern Germany, the Puhdys enjoyed significant success outside the GDR, and were one of the first East German bands allowed to tour West Germany. They are one of the most successful German-language rock groups. The first Puhdys album, released in early 1974, was very successful, and remains a well-regarded album among the band's fans, despite being in part derivative of western artists; this was due in part to the political impossibility of using the original songs in Paul and Paula, and director Carow's desire for close German-language equivalents. The band followed up Sturmvogel with an album of 1950s and early 1960s rock'n'roll songs, Rock and Roll Music, which was one of the band's top sellers in East Germany, in part due to the unavailability of the records by the original artists; it sold less well in the west. The band asked Chuck Berry himself for the lyrics to "Brown Eyed Handsome Man"; he replied that he had forgotten them. It was followed by the harder rocking Perlenfischer (Pearl Diver, 1977) and 10 Wilde Jahre (10 Crazy Years, 1978), the latter of which included "Doch die Gitter schweigen" (Still The Prison Bars Are Silent, later recorded in English as "Prison Walls Are Silent"), an epic tune that was commissioned for celebrations of the GDR's 30th anniversary in 1979; its topic, a prisoner's longing to escape, slipped past the censors.
Following Wilde Jahre, the band produced a well regarded live double album recorded at Berlin's Friedrichstadpalast theater.
Die Puhdys – weterani niemieckiego rocka, zespół założony w 1969 roku w Oranienburgu (ówczesna NRD), chociaż wszyscy grali razem w różnych składach jako Puhdys od 1965. Najbardziej popularni byli w swojej rodzinnej NRD, ale również dużą popularnością cieszyli się w innych krajach bloku wschodniego m.in. w Polsce. Jako jeden z pierwszych zespołów z byłej NRD mogli koncertować w RFN. Są jednym z najbardziej znanych niemieckojęzycznych zespołów rockowych.
download (mp3 @320 kbs):
Last Updated (Thursday, 15 November 2018 22:43)