Exodus - Exhibit B The Human Condition (2010)
Exodus - Exhibit B The Human Condition (2010)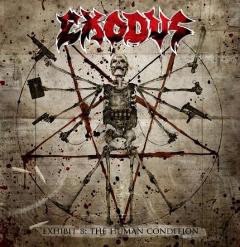 2.Beyond The Pale
3.Hammer And Life                  play
4.Class Dismissed (A Hate Primer)
5.Downfall
6.March Of The Sycophants
7.Nanking
8.Burn, Hollywood, Burn            play
9.Democide
10.The Sun Is My Destroyer
11.A Perpetual State Of Indifference
12.Good Riddance
13.Devil's Teeth (Bonus Track)

Personnel
* Rob Dukes – Vocals
* Gary Holt – Lead and rhythm guitars
* Lee Altus – Lead and rhythm guitars
* Jack Gibson – Bass
* Tom Hunting – Drums, Percussion
* Brendon Small - Guitar solo on "Devil's Teeth"

You can always count on Exodus to supply some good, old-fashioned, downright vicious thrash metal with each release. And the lads deliver once more on their 2010 offering, Exhibit B: The Human Condition (impressively, their fourth album over a six-year period -- 2004-2010). As with the past few Exodus releases, guitarist Gary Holt and drummer Tom Hunting are the sole original members left in attendance. But this certainly doesn't prevent the group from offering up an absolutely brutal slab of thrash metal -- with the intensity not dipping one iota from beginning to end. And according to Holt, Exhibit B is a bit of a concept album, as the lyrics deal with such warm and fuzzy topics as "cruelty, ignorance, inhumanity, and brutality." Either way, the heavy duty topics certainly fit in well with the fast and furious riffing and vocal roars (the latter courtesy of Rob Dukes) -- as evidenced on such headbanging ragers as the album opener, "The Ballad of Leonard and Charles," as well as "Class Dismissed (A Hate Primer)" and "March of the Sycophants." Even with the tunes that momentarily take a breather ("Democide," "A Perpetual State of Indifference," etc.), it's only a matter of time until Exodus rams down the gas pedal once again and returns to their chug-a-lug riffery. Exodus has always liked it fast and furious, and they certainly don't disappoint with Exhibit B: The Human Condition. ---Greg Prado, AllMusic Review
"Exhibit B: The Human Condition". Tytuł sugeruje, że tematem przewodnim albumu będzie ludzka natura (a właściwie jej ciemna strona). Do tych samych wniosków można dojść spoglądając na okładkę płyty, dosyć nietypową jak na Exodus, nawiązującą do słynnego szkicu Leonarda da Vinci - "Człowieka witruwiańskiego". Jeśli już jesteśmy przy oprawie graficznej, to trzeba przyznać, że panowie z Nuclear Blast po raz kolejny się tutaj postarali. Album, podobnie jak poprzednik posiada dodatkową tekturową osłonkę. Muszę przyznać, że bardzo mi się to podoba...
Jak wygląda nowe dziecko Kalifornijczyków od strony czysto muzycznej? Niespodzianek w zasadzie nie ma, no może poza jedną - krążek trwa prawie osiemdziesiąt minut. Nie ma się jednak czego bać. Gary i spółka serwują nam tu tyle znakomitych zagrywek, że nie sposób się nudzić przy tej muzyce. Dobrego nigdy za wiele... O produkcji nie będę nic pisać. Osoba Andy'ego Sneap'a mówi sama za siebie.
Na krążku znajdziemy dwanaście kawałków plus utwór bonusowy z tym, że numer jedenaście jest właściwie intrem. Rozpoczynamy znajomymi dźwiękami... "Bedlam 1,2,3" - to swego rodzaju pomost łączący obie części "The Atrocity Exhibition". Wkrótce docierają do nas potężne riffy "The Ballad Of Leonard And Charles", która z balladą ma jednak niewiele wspólnego... Jest to świetny, typowo exodusowy otwieracz z zapadającymi w pamięć refrenami, idealnie wyskrzeczanymi przez Roba. Równie dobra jest dwójka czyli "Beyond The Pale" Naprawdę wiele się tu dzieje. Są szybkie, genialne riffy, są zwolnienia, są charakterystyczne dla Exodus pojedynki gitarowe. Miazga! "Hammer And Life" to jak na ten album utwór króciutki, trwający "zaledwie" trzy i pół minuty. Dominują tu głównie średnie tempa. Kawałek bardzo szybko wchodzi w czaszkę, jest niesamowicie chwytliwy, ale w pozytywnym tego słowa znaczeniu. Szósteczka - "March Of The Sycophants" zachwyciła mnie swoimi luzackimi riffami, jakby żywcem wyjętymi z "Pleasures Of The Flesh" bądź "Fabulous Disaster". Najlepszy na płycie jest jednak następny numer - "Nanking". Chłopaki garściami czerpią tu ze Slayera. Można nawet powiedzieć, że to taki exodusowy "Spill The Blood". Jest plumkanie na gitarach, są ciężkie powolne riffy, jest klimat, jest genialnie! To jednak nie koniec emocji. Posłuchajcie dziewiątki - "Democide"! Wokale Roba są tutaj niesamowite, szczególnie w refrenach. Nie mam pytań! Najdłuższy (ponad dziewięć minut!) i zarazem najbardziej brutalny jest utwór dziesiąty - "The Sun Is My Destroyer", gdzie gościnnie udziela się Peter Tägtgren, którego nikomu chyba przedstawiać nie muszę. Warto zwrócić tu uwagę na solówki, moim zdaniem najlepsze na płycie, wolne, klimatyczne, kontrastujące z bardzo szybką resztą numeru. Album kończy "Good Riddance" poprzedzony dwuipółminutowym intrem. Kawałek absolutnie nie odstaje od poprzedników. Najlepsze w nim są, jak to często bywa u Exodus refreny. Pozostaje nam jeszcze bonus w postaci "Devil's Teeth". Cóż można o nim napisać... To konkretny szybki cios prosto w twarz. Gościnnie wystąpił tu Brendon Small, gitarzysta Dethklok.
Nowa płyta Kalifornijczyków właśnie skończyła się obracać w moim hi-fi. Jestem totalnie pozamiatany. Gary Holt i tym razem nie zawiódł. Czy "Exhibit B: The Human Condition" jest lepszy od swojego poprzednika? Moim zdaniem trochę mu brakuje do pierwszej części "Okrutnej wystawy", ale różnica jest naprawdę niewielka. Chłopaki po raz kolejny skopali mi tyłek masą genialnych dźwięków. Jeśli ktoś nie ma jeszcze tego krążka na swojej półce, radzę szybko naprawić ten błąd... ---Venom, metalside.pl
download (mp3 @320 kbs):
Last Updated (Sunday, 25 February 2018 16:56)