The Hollies - The Air That I Breathe (1996)
The Hollies - The Air That I Breathe (1996)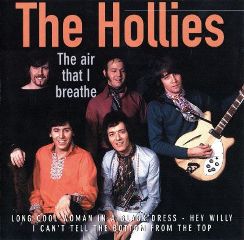 01. I Can't Tell The Bottom From The Top 3:42
02. Mad Professor Blyth 2:17
03. Gasoline Alley Bred 3:54
04. Dandelion Wine 2:43
05. Hey Willy 3:29
06. Row The Boat Together 2:19
07. Long Cool Woman In A Black Dress 3:16
08. Cable Car 4:23
09. The Baby 3:49
10. Oh! Granny 2:42
11. The Day That Curly Billy Shot Crazy Sam McGee 4:21
12. Born A Man 2:57
13. The Air That I Breathe 4:08
14. No More Riders 2:57
15. Star 3:40
16. Love Is The Thing 3:40
17. Hello To Romance 5:08
18. 48 Hour Parole 3:35
19. Something To Live For 4:47
20. Song Of The Sun 4:18

The Hollies are a well-respected British beat and rock and roll band that formed in the early 60s. Initially they had a squeaky-clean image and were famous for their rich vocal harmonies, rivaling those of The Beach Boys. Between 1964 and 1969, only two Hollies songs failed to reach the UK Top 10. Their most famous member was Graham Nash, who left in 1968 to form the folk supergroup Crosby, Stills & Nash. Two of the core members, drummer Bobby Elliott and lead guitarist Tony Hicks, still perform with The Hollies into the new millennium.
Frequent releases during the mid-60s included many cover versions of popular songs, as well as a few group-penned hits and many songs written especially for them by professional songwriters.
The Hollies were formed in 1962 in Lancashire, England. By 1965,the group had been established as one of Britain's pre-eminent singles bands. As part of the British Invasion, they enjoyed huge chart success in many countries in the mid-Sixties, releasing a string of classic harmony-pop hits including Bus Stop I'm Alive, a UK No. 1, I Can't Let Go, Stop Stop Stop, Carrie Anne, On A Carousel, Look Through Any Window, and Jennifer Eccles.
In 1972, the hit Long Cool Woman in a Black Dress reached #2 in the US. Their last mega hit was He Ain't Heavy, He's My Brother, hitting #1 in the UK in 1988 (albeit 19 years after its first release).
The band are noted for their longevity, with their 2006 tour chalking up 45 years. Despite numerous changes in line-up, Tony Hicks & Bobby Elliott have been with the band almost from its inception.
Lead singer Allan Clarke left The Hollies in 1971, though he rejoined the band at later times. He was eventually replaced by Carl Wayne, ex lead singer of The Move, who passed away in 2004. Wayne was replaced by Peter Howarth. The 2007 line up is, Ian Parker on keyboards, Ray Stiles (Ex Mud, remember 'Tiger Feet') on bass guitar and Alan Coates on guitar and vocals by Steve Lauri.
The Hollies were inducted into the Rock and Roll Hall of Fame on March 15, 2010.
Allan Clarke (vocals, 1962-71, 1973-99), Graham Nash (guitar, vocals, 1962-68, 1983), Eric Haydock (bass, 1962-66), Vick Farrell (guitar, 1962), Don Rathbone (drums, 1962-63), Tony Hicks (guitar, banjo, mandolin, electric sitar, vocals, 1963-present), Bobby Elliott (drums, percussion, 1963-present), Bernie Calvert (bass, 1966-81), Terry Sylvester (guitar, vocals, 1969-81), Mikael Rickfors (vocals, 1971-73), Denis Haines (bass, 1981-86), Alan Coates (guitar, 1981-2004), Ray Stiles (bass, vocals, 1986-present), Ian Parker (keyboards, vocals, 1991-present), Carl Wayne (vocals, 2000-04), Peter Howarth (vocals, acoustic guitar, 2004-present), Steve Lauri (guitar, vocals, 2004-present). ---last.fm
download (mp3 @320 kbs):
yandex mediafire uloz.to cloudmailru gett