David Bowie - Toy (2011)
David Bowie - Toy (2011)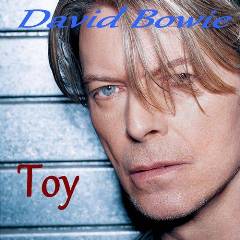 1 	Uncle Floyd 	6:15
2 	Afraid 	3:29
3 	Baby Loves That Way 	4:38
4 	I Dig Everything 	4:53
5 	Conversation Piece 	3:55
6 	Let Me Sleep Beside You 	3:14
7 	Toy (Your Turn To Drive) 	4:45
8 	Hole In The Ground 	3:32
9 	Shadow Man 	4:40
10 	In The Heat Of The Morning 	3:51
11 	You've Got A Habit Of Leaving 	4:51
12 	Silly Boy Blue 	5:34
13 	Liza Jane 	4:49
14 	London Boys 	3:50

Backing Vocals – Emm Gryner, Holly Palmer
Bass – Gail Ann Dorsey, Mark Plati
Drums – Sterling Campbell
Guitar – Earl Slick, Gerry Leonard, Mark Plati
Keyboards – David Bowie
Mandolin – David Bowie
Piano – Mike Garson
Violin – Lisa Germano
Vocals – David Bowie

A decade after it was shelved by his label, David Bowie's 23rd studio album has been leaked on the internet. Toy, conceived as a reimagining of Bowie's early work, appeared on file-sharing websites this week, with Bowie's reps refusing to comment.
Toy was originally scheduled to be released in 2002. Together with long-time producer Tony Visconti and Bowie's touring band from 1999's Hours ..., the singer had laid down sessions at New York's Sear Sound studios, recording new versions of some of his earliest works. These included 1968's In The Heat of the Morning – with the strings taken out – and 1971 demo Shadow Man – with strings put in. Bowie also recorded a new version of his very first single, 1964's Liza Jane, first released under the name Davie Jones and the King Bees.
But Virgin Records did not release Toy. There were reports of rights issues, royalty disputes, and shortly thereafter Bowie set up his own label, ISO, licensed through Columbia. Five of Toy's tracks have since seen release, appearing on 2002's Heathen and as B-sides, although the bulk of Toy remained a mystery.
Toy's unveiling will be of considerable interest to music-starved Bowie fans, who haven't had a new album since 2003. Outside of a handful of cameos – including work with Arcade Fire, Scarlett Johansson and David Gilmour – the Thin White Duke has been on an apparent musical hiatus since heart surgery in 2004. --- Sean Michaels, theguardian.com
download (mp3 @256 kbs):
Last Updated (Sunday, 14 January 2018 10:06)