Pink Floyd - The Complete Zabriskie Point Sessions (1970)
Pink Floyd - The Complete Zabriskie Point Sessions (1970)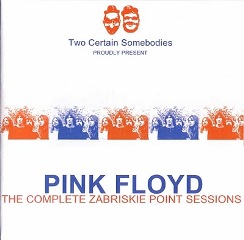 01. Rain In The Country Take 1
02. The Violence Sequence Take 1
03. The Red Queen Theme Take 1
04. Fingal's Cave Take 1
05. Theme Take 2
06. Rain In The Country Take 2
07. Love Scene Take 1
08. Love Scene Take 2
09. Blues Scene Take 1
10. Fingal's Cave Take 2
11. Love Scene Take 3
12 Love Scene Take Four 
13. The Red Queen Theme Take 2
14. Crumbling Land Take 1
15 Unknown Song Take One 


Bass, Vocals – Roger Waters
Drums – Nick Mason
Guitar, Vocals – David Gilmour
Piano, Vocals – Richard Wright

Recorded Live at Technicolor Sound Services, Rome, Italy
December 07-12, 1969.

Italian director Michelangelo Antonioni's Zabriskie Point has always been controversial, dividing even his staunchest defenders. Some feel the 1970 film—Antonioni's only American movie—completely missed its mark and failed to capture the zeitgeist of the hippie New Left counterculture of the era.
And speaking of Zabriskie Point, I've been obsessed with a Pink Floyd bootleg for years now and wanted to call it to your attention, dear readers, chances are that some of you might enjoy it, too.
Apparently the Floyd were at one point to have been the sole composer/musicians for the Zabriskie Point soundtrack. They completed eight numbers for the film, but only three were used. Antonioni added material by The Youngbloods, Roy Orbison, Jerry Garcia, The Kaleidoscope, Patti Page and the Rolling Stones to round out the film's score. (Oddly, Antonioni visited the Doors in the studio when they were recording the extraordinary "L'America" for L.A. Woman, but the director inexplicably turned down the track, which could have worked spectacularly well in his film.)
Under the titles like "370 Roman Yards" or "A Total Zabriskie Point of View," you can hear all of the soundtrack music recorded by Pink Floyd for Antonioni that never made it into the film. Whichever name you find it under, these boots purport to be the "lost" Pink Floyd soundtrack to Zabriskie Point with all eight of the tracks recorded for the film appearing in the order of the intended album's run list. Some of the boots contain all the known outtakes.
It's an extremely satisfying listen: Some of it sounds like Atom Heart Mother, some of it like Meddle and some of it is reminiscent of "Grantchester Meadows," Roger Waters' dreamy, pastoral composition from Ummagumma. "Heart Beat, Pig Meat" was Pink Floyd's first time using a human heartbeat as a musical instrument (but it would not be the last). It's one of their most monstrous numbers, truly a mind-blower. Rick Wright contributed a piano number called "The Violent Sequence" which was also unused, but later retooled as "Us and Them" on Dark Side of the Moon. Parts of the score remind me of Erik Satie and it has some of the few Floyd numbers that could be described as "blues rock." Taken as a whole, it does absolutely sound like a "lost" Pink Floyd album recorded at the end of 1969, because that's exactly what it is… ---dangerousminds.net
download (mp3 @192 kbs):
Last Updated (Monday, 05 November 2018 13:24)