Percival - Slava II (Piesni slowian wschodnich) (2014)
Percival - Slava II (Pieśni słowian wschodnich) (2014)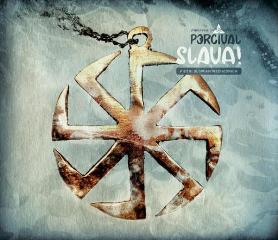 01. Матрëшка (Matrieshka)
02. Маpічко Чичері (Marichko Chycheri)
03. Ярило (Jarilo)
04. Клик весна (Klik vesna)
05. Блoгослови матe (Blagoslavi мate)
06. Чёрна галочка (Cherna galochka)
07. Ой ти місяцю (Oj ty misjatsu)
08. Rosa
09. Медуница (Medunitsa)
10. Тому коса (Tomu kosa)
11. Листочку червений (Lystochku chervenyj)
12. А ты мыла (A ty myla)
13. Зозуля (Zozulja)
14. Конь (Kon)
15. На Ивана (Na Ivana)
16. Ой y лиси (Oj u lisi)

Mikołaj Rybacki – wokal, saz, mandolina, buzuki, instrumenty perkusyjne;
Katarzyna Bromirska – wokal, rebec, sopiłka, wiolonczela, instrumenty perkusyjne;
Christina Bogdanova – wokal, cymbały, instrumenty perkusyjne;
Joanna Lacher – wokal, instrumenty perkusyjne

Płyta "Slava II – Pieśni Słowian Wschodnich" jest częścią tryptyku poświęconego muzyce słowiańskiej. To właśnie I część tego tryptyku – "Slava – Pieśni Słowian Południowych" została dołączona do preorderu "Równonocy" i razem z nią zdobyła status Złotej płyty. "Slava II" była z kolei mocno inspirowana współpracą przy tworzeniu muzyki do gry "Wiedźmin 3: Dziki Gon". Ostatni album, który dopiero powstanie, będzie dotyczył Słowian zachodnich, przez co na pewno będzie najbliższy polskim słuchaczom.
"Slava II" prezentuje niewielki fragment ogromnego zbioru pieśni Słowian wschodnich, a więc Rosjan, Białorusinów, Ukraińców i Łemków. Utwory zawarte na tym albumie to często pieśni obrzędowe, pieśni stare, sięgające korzeniami czasów przedchrześcijańskich, jednakże wykonane czasami w przewrotny sposób. Teksty tych utworów mają zazwyczaj znaczenie symboliczne, które odczytać można zagłębiając się w mitologię i tradycję słowiańską. W pracach nad płytą zespół wspomogła Lada Czerkasowa – rosyjska ekspertka w sprawach obrzędów i pieśni słowiańskich.
W chwili obecnej, kiedy album jest już skończony, wszyscy jesteśmy świadkami konfliktu na wschodzie Ukrainy. Kiedy zespół rozpoczął prace nad "Slavą II", było tam jeszcze spokojnie. Możliwe, że ten album przyczyni się do lepszego poznania kultury naszych wschodnich sąsiadów, a przez to przyczyni się również do budowania zgody między Słowianami. Jeśli oddzielić religię i politykę od kultury, Słowianie różnią się od siebie niewiele – dzielimy wspólne korzenie i tradycje, które na pewno warto pielęgnować. Jasnym dowodem na to są obrzędy słowiańskie, które były praktykowane zarówno na wschodzie, jak i na terenach Polski w bardzo podobny sposób, czego ślady odnaleźć można do dzisiaj.
Obce kulturowo ideologie, które pojawiły się na terenach słowiańskich kilkaset lat temu, nie zdołały ich zatrzeć, pomimo tego, że doprowadziły do podziału Słowian i oddalenie się ich od siebie. ---empik.com
download (mp3 @320 kbs):
salefiles yandex 4shared mega mediafire zalivalka cloudmailru uplea