KSU - Hey to znowy my '86
KSU - Hey to znowy my '86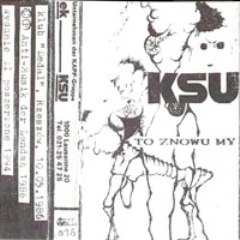 1. To znowu my
2. Nocą
3. Dno
4. Umarłe drzewa
5. Wrogie reakcje
6. Martwy rok
7. Liban
8. Wielki koniec
9. Rewolucja w ścieku
10. Pod prąd
11. Wojna i śmierć
12. Cela 51
13. Prowokacje
14. Ustrzyki 1
15. La grande finalle
16. La grande finalle

Bass – Kurczak
Drums – Tu
Guitar, Vocals – Siczka

Kaseta KSU "Hey to znowy my" z koncertem z Rzeszowa z 86 roku.

Gwałtowny rozwój ruchu punk w Europie Zachodniej wywarł pewne piętno na świadomości młodzieży polskiej lat 70-tych. Adopcja tego prądu do naszych warunków nie była całkowita. Prawdą jest, że pewne cechy zachodniego punka przyjęły się w Polsce i do dzisiaj istnieją. Rodzimy punk nigdy jednak nie wykształcił jednorazowego wzoru, poprzez co podziału można dokonać także w jego własnych łonie. A jak było na Podkarpaciu?
Wszystko zaczęło się w latach 77/78, gdy w Ustrzykach Dolnych powstała arcyoryginalna- na swoje czasy- grupa KSU. Dowodzona przez "Bohuna" piątka chłopców mając do "dyspozycji" tylko cykl audycji na temat punka nadawanych przez radio "Free Europe" i prymitywny sprzęt, stworzyła własną koncepcję uprawiania muzyki. THe Sex Pistols, Vive UK Subs wywarły wpływ na ich wyobraźnię do tego stopnia, że grane utwory, to muzyczne przeróbki prekursorów punka. Piosenki natomiast znalazły posłuch wśród młodzieży, mówiąc o zakłamaniu dorosłych i ich moralności znudzeniu dotychczasowym życiem, wytartych ideałach. Przebój "Ustrzyki" stał się niemalże "hymnem" i to nie tylko ustrzyckiego punka.
Nikomu nie znana kapela z "jakiś tam Ustrzyk", stała się objawieniem Festiwalu Nowej Fali zorganizowanego w Kołobrzegu w sierpniu 1980r. w krótkim okresie stając się gwiazdą muzycznego "podziemia". Równocześnie posypały się zagraniczne oferty nagraniowe i propozycję koncertów. Wystarczył jeden koncert, by poruszyć zachodnie czasopisma muzyczne: Tłumaczono skrót KSU jako Krajowa Swobodna (tzw. wolna) Ukraina, wysuwano niesamowite wersje istnienia bunkrów, w których grupa koncertuje i z których nadaje się muzykę w eter. A rzeczywistość była ponura- ciągłe kłopoty sprzętowo- lokalowo- finansowe, totalna negacja poczynań zespołu ze strony różnych osób. Szokujący dla osób postronnych był przede wszystkim sposób ubierania i zachowania się członków kapeli, żadna instytucja nie kwapiła się z pomocą, czego dziś można żałować, oczywiście zakładając, że kapela miała szanse promocji, także na obczyźnie. --- nasze.ksu.art.pl
download (mp3 @320 kbs):
yandex 4shared mega mediafire uloz.to cloudmailru uptobox ge.tt