Ryszard 'Skiba' Skibinski – Ostatni Koncert (1987)
Ryszard 'Skiba' Skibinski – Ostatni Koncert (1987)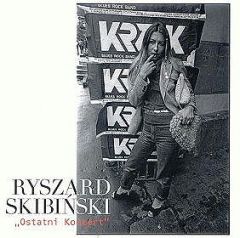 01. Blues lakowy 
02. Maszynka lakowa 
03. Come on 
04. Taki sobie blues 
05. Double R Song 
06. Kim jestes - listonoszem 
07. Go-Go-owiec 
08. Ballada dla M 
09. Taki sobie rock`n`roll

Skład :
    Ryszard "Skiba" Skibiński (harmonijka, śpiew)
    Leszek Dranicki (gitara, śpiew)
    Jerzy Kawalec(gitara basowa)
    Ryszard Riedel (śpiew)
    Andrzej Ryszka (perkusja)
    Jorgos Skolias (śpiew)
    Leszek Winder (gitara)
+
    Kapela Bluesowa "Łąkowa"
    Jan Borysewicz
    Brygida Karbowiak
    Ewa Nowicka
    Marek Śnieć
    Krzesimir Dębski (skrzypce)
Nikt nie potrafi odpowiedzieć dlaczego Rysiek zainteresował się właśnie bluesem. Trudno jest też powiedzieć dlaczego zainteresowała go właśnie harmonijka. Jak sam wspominał kiedyś w wywiadzie to nie ja wybrałem harmonijkę to harmonijka wybrała mnie. Do jego muzycznych ulubieńców należeli BB King, Muddy Waters, John Mayall, Janis Joplin, Led Zeppelin, The Allman Brothers Band, Pink Floyd, Leon Russel , Dire Straits i wielu innych. Jednak to brzmienie harmonijki przyciągało jego uwagę i wzbudzało największe zainteresowanie. Skiba lubił harmonijkarzy grających proste dźwięki, posługujących się "mięsistym" brzmieniem. Jak udało mi się ustalić bardzo cenił Paula Butterfielda, Jamesa Cottona, Alana Wilsona (uwielbiał zresztą całe Canned Heat).
Inspirację czerpał głównie z płyt zachodnich wykonawców. Niełatwo było wtedy zdobyć takie wydawnictwa. Głównym źródłem dostaw byli znajomi. Rysiek był otwartym i szczerym człowiekiem, który szybko zjednywał sobie sympatię innych, dlatego miał wielu znajomych i kolegów. To od nich pożyczał płyty (kilka płyt pożyczył Wojciech Mann). Przegrywał je na taśmę lub kasetę starannie opisując tak aby bez pudła mógł trafić na właściwego wykonawcę.
21 maja 1983 roku w hali "Arena" w Poznaniu odbył się wielki koncert poświęcony pamięci zmarłego 30 kwietnia Muddy'ego Watersa. Wystąpił wówczas zespół Krzak (z Ryśkiem Skibińskim w składzie) oraz wielu wybitnych gości : Jan Borysewicz, Krzesimir Dębski, Ryszard Riedel, Marek Śnieć. Nikt nie przypuszczał, że będzie to ostatni koncert Ryszarda Skibińskiego.
download:    uploaded 4shared mediafire ziddu divshare gett
Last Updated (Wednesday, 23 January 2013 17:07)