Ernest Chausson – Poème for Violin and Orchestra
Ernest Chausson – Poème for Violin and Orchestra
The lyrical Poème, a single-movement work published in 1896, just three years before his death, is based on "The Song of Triumphant Love," a short story by the Russian novelist, short story writer, and playwright Ivan Turgenev. It's the tale of two young men, Fabio and Muzio, who fall in love with the same woman, Valeria (some have suggested that Chausson also was inspired by a real-life love triangle involving his friend Faurè and a popular mezzo-soprano).
Ernest Chausson - Poème Op.25
It was commenced in April 1896 and finished on 29 June, and was written while Chausson was holidaying in Florence, Italy.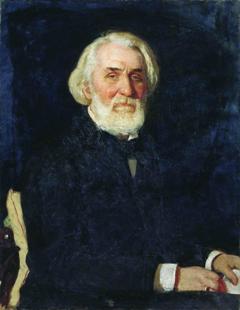 Ivan Turgenev by Repin, 1879
Poème was written in response to a request from Eugène Ysaÿe for a violin concerto. Chausson felt unequal to the task of a concerto, writing to Ysaÿe: "I hardly know where to begin with a concerto, which is a huge undertaking, the devil's own task. But I can cope with a shorter work. It will be in very free form with several passages in which the violin plays alone. " (Letter to Eugène Ysaÿe, 7 July 1893) "I really believe that there is something to be said for this sort of piece for violin and orchestra, which is very different from anything which has appeared before." (Letter to Vincent d'Indy, August 1895)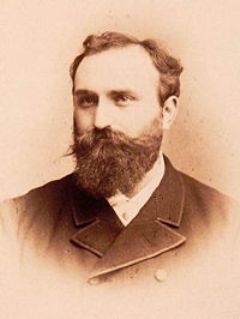 Ernest Chausson
It has been suggested by Chausson's biographer, Jean Gallois, that the Poème was prompted by a Turgenev tale of jealousy and death in which the novelist's thwarted passion for the French mezzo-soprano, Pauline Viardot (1821-1910), is transposed into a fabulous Renaissance setting fraught with a magic potion, a violin whose music ravishes the soul, and a lover returned from the legendary orient.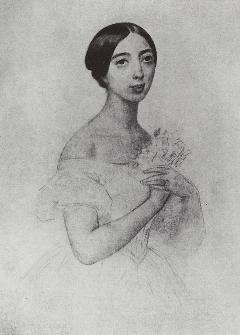 Puline Viadrot
It is a mark of Chausson's genius that he eschewed the commonplaces of narrative to transmute those elements into a seamlessly compelling work for violin and orchestra -- for the Poème is not program music. Rather, its high fantasy -- superbly sustained -- relies upon deftly dovetailed but clearly distinguished episodes, thematically linked.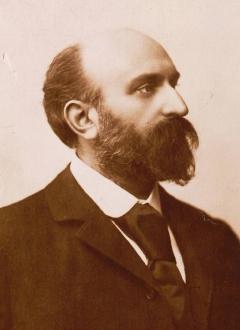 Ernest Chausson
Amédée-Ernest Chausson (January 20, 1855 - June 10, 1899) was a French romantic composer born into a wealthy Parisian family. He initially studied law and became a lawyer at the Court of Appeals. At the age of 25 he began attending composition classes at the Paris Conservatoire taught by the opera composer Jules Massenet. It is from these lessons that Chausson's earliest manuscripts survive.
Ernest Chausson
Chausson's artistic vision, though extremely individual, does reflect the influences of both César Franck and Richard Wagner, as well as traces of Massenet and even Johannes Brahms. His orchestral output was small, but significant and includes his singular Symphony in B Flat Major, completed in 1890. Owing to his late start, and tragically short life, Chausson left behind only 39 numbered works.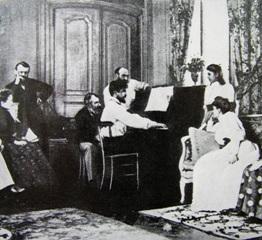 Salon d'Ernest Chausson
Poème starts Lento e misterioso. Subsequent tempo indications are Molto animato, Animato, Poco lento, Poco meno lento, Allegro, Tempo I and the work ends Tranquillo.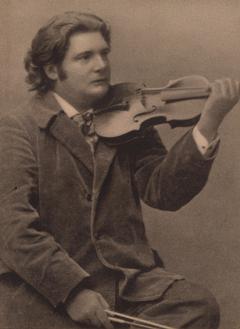 Eugène Ysaÿe
Claude Debussy wrote in 1913: "The freedom of its form never goes against its harmonious proportion. The sense of dreamy gentleness is at its most touching at the end when, leaving aside all trace of description and anecdote, the music becomes that very feeling which inspires its emotion. Such moments in the work of an artist are very rare."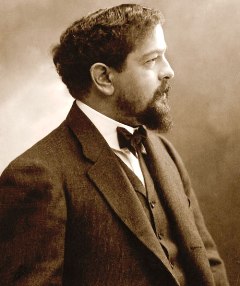 Claude Debussy
The Poème was given its première at the Nancy Conservatoire on December 27, 1896 by Ysaÿe, to whom it is dedicated. In a sublime gesture, Chausson's friend, Isaac Albéniz, secretly arranged for Breitkopf to publish the score, paying for it from his own pocket, to buoy the composer through one of his periodic bouts of self-doubt.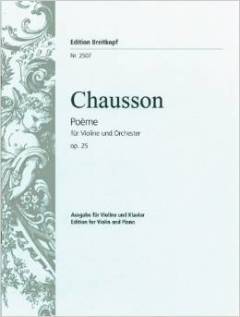 Poeme - Edition Breitkopf
Chausson produced three versions of the Poème: one with orchestra, one with piano accompaniment and the third with string quartet and piano.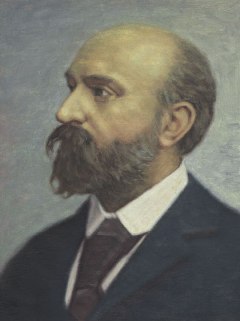 Ernest Chausson