Mano Negra - Casa Babylon (1994)
Mano Negra - Casa Babylon (1994)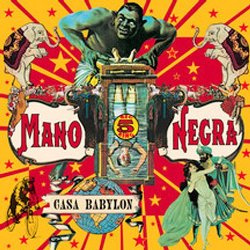 01. Viva Zapata
02. Casa Babylon
03. The Monkey
04. Senor Matanza
05. Santa Maradona (Larchuma Football Club)
06. Super Chango								play
07. Bala Perdida
08. Machine Gun
09. El Alakran (La Mar esta Podrida)
10. Mama Perfecta
11. Love and Hate								play
12. Drives me crazy
13. Hamburger Fields
14. La Vida (La Vida me da Palo)
15. Sueno de Solentiname
16. This is my World

Personnel: 
Manu Chao (vocals, guitar); 
Santi (vocals, drums); 
Tom (vocals, sampler); 
Anouk (vocals); 
Kropol (trombone).

Manu Chao's road to Clandestino and Proxima Estación: Esperanza begins here with Mano Negra's swan song album. Conceptually, it marks the first use of radio and TV broadcast samples to create sound collages between tracks so the songs emerge like they would if you were station surfing on the car radio. Lyrically, it's the birth of the internationalist Manu Chao, as overt political messages largely replace the previous rebel rocker sentiments. Musically, Mano Negra returns to the manic rhythmic drive of Puta's Fever and ups the reggae, ska, and Latin ante after testing more mainstream rock waters on King of Bongo. But Casa Babylon goes one step beyond Puta's Fever by crashing together different styles and even lyrics in different languages within the songs. So the racehorse title track blends a Latin feel with motor-mouth rapping and blowsy trombone, while "Senor Ma Tanza" starts fast and furious before settling into funky dub at the end. "El Alkaran" slyly drops lyrics from "La Bamba" into its ecological complaint alongside ragga DJing, while "Hamburger Fields" is surreal pop laced with a bop-bopping vocal hook. Mano Negra doesn't entirely turns it back on rock -- "The Monkey Speaks His Mind," "Sant a Maradona" (a tribute to Argentine soccer star Diego Maradona), and "Love and Hate" more than adequately fill the high decibel and hard guitar quotient. But Manu Chao definitely turned a corner here, one that set the stage for his success even as it marked the end of a group that exerted an enormous formative influence on the Latin alternative scene. --- Don Snowden, AMG
Mano Negra fue un grupo francés formado en 1987. Su estilo mezclaba rock, canción francesa, música africana, flamenco, ska, salsa, roots reggae y blues. Liderado por el cantautor Manu Chao consiguió grandes éxitos como "Mala vida" o "Seńor Matanza".
Al regreso de su gira sudamericana de 1992, la tensión entre los miembros del grupo va creciendo. Tras abandonos, la banda (principalmente Manu Chao) da forma al que sería su siguiente álbum, "Casa Babylon", un disco que al igual que "King of Bongo" no tiene relación con sus discos anteriores. Al mismo tiempo el grupo edita un libro biográfico de colección que incluye un picture-disc con canciones inéditas, algunas incluidas posteriormente en el "Casa Babylon".
Sobresale la participación de Fidel Nadal, vocalista del grupo argentino Todos Tus Muertos, y de Gambeat, bajista de la nueva banda de Manu, French Lovers. El resultado de las grabaciones es el único disco conceptual del grupo, donde pieza por pieza se va ligando en una fiesta de ritmos latinoamericanos mezclados con ápices de rock y hardcore.
El grupo como tal no interpreta los temas de "Casa Babylon" en vivo, aunque varios de sus miembros realizan algunas presentaciones en Espańa con nombres diferentes, como Larchuma FC o Radio Bemba, y ofrecen algunas colaboraciones con otros grupos, sobre todo con Negu Gorriak, del País Vasco.
Casa Babylon es el cuarto álbum de estudio de Mano Negra y el sexto de la banda. Fue lanzado al mercado en 1994 con la discográfica Virgin France.
download (mp3 @320 kbs):
yandex 4shared mega mediafire cloudmailru oboom uplea
Last Updated (Sunday, 22 November 2015 09:36)