L'aperitivo Italiano Passione Napoletana (2015)
L'aperitivo Italiano Passione Napoletana (2015)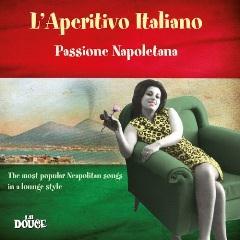 01. Melania – O sole mio
02. Banda Brasileira – Funiculi funicula
03. Melania – Torna a Surriento
04. Orchestra Volare – Tu si na cosa grande
05. Banda Brasileira – Dove sta Zaza
06. Melania – I' te vurria vasa'
07. Banda Brasileira – O' surdato 'nnamurato
08. Melania – Luna rossa
09. Banda Brasileira – Simm'e napule paisa
10. Melania – Tu vuo fa l'americano
11. Banda Brasileira – Era de maggio
12. Melania – Voce 'e notte
13. Banda Brasileira – Guapparia
14. Melania – Core 'ngrato
15. Montefiori Cocktail – Anema e core
16. Banda Brasileira – Chella 'lla
17. Melania – Caruso
18. Banda Brasileira – Lazzarella
19. Melania – Munasterio 'e Santa Chiara
20. Banda Brasileira – Comme facette mammeta
21. Melania – Resta cu' mme
22. Banda Brasileira – Torero
23. Melania – Malafemmena
24. Banda Brasileira – Io mammeta e tu
25. Melania – Tammurriata nera
26. Banda Brasileira – Guaglione
27. Elisa – Alleria
28. Banda Brasileira – Napule e
29. Melania – Pinu'
30. Dagmar's Collective – Un giorno che non va

Irma records is one of the most 'long-lived' Italian independent Labels, it all begun Bologna in 1988, right when the new breed of dance music of the 90's kicked off, Italian producers were at the top of their games and featured regularly in music charts around the world, carving out their own space with international successes with names like 'Double Dee' and the brilliant classic Italian/American project 'Jestofunk'.
Simultaneously in those years a new music trend was emerging "Cocktail Lounge", a mixture between the refined sound of "Jazz" and "Soul" also described as "Easy Listening" with soft atmospheres and a cinematic vein.
Gradually these new music styles were gaining attention, "Cocktail Lounge" was the favorite background music to be used in most of the important fashion events in Italy and Internationally, it became the perfect sound for the hippest of Lounge bars as well and soon after it entered the difficult world of film and television.
Irma immediately embraced this new style and this new philosophy of listening, producing since year 2000, Albums and Compilations of Artists who gradually gained a lot of popularity and a profile at international level.
A vast number of Releases were produced, (specially Compilations) series like 'Irma Chill Out Cafe', today reaching volume 12, compilations dedicated to 'Formentera' (De Dia, De Noche), 'Irma At Sex And The City' (soundtrack of the popular television series), 'The Christmas Box' (all the most famous Christmas songs in a lounge version) and the series 'L'Aperitivo Italiano'.
Today we present the new volume of 'L'Aperitivo Italiano', a brilliant new Compilation where after a very careful research we have chosen some of the most popular and worldwide renown Neapolitan songs like "O Sole Mio" , "Torna a Surriento", to "Tu si na cosa grande" , "Resta cumm'è" and many many more…) all re-arranged in an unusual and very special "Lounge" style, the end result are 30 tracks meant to be placed in a double CD. --- irmarecords, discogs.com
download (mp3 @320 kbs):
yandex 4shared mega mediafire zalivalka cloudmailru uplea