Gene Harris ‎– Alley Cats (1999)
Gene Harris ‎– Alley Cats (1999)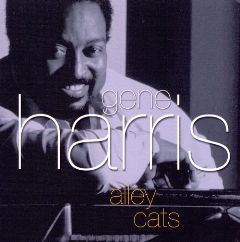 1 	Put It Where You Want It 	5:34
2 	Magic Lady 	4:05
3 	Blues March 	10:56
4 	Bird's Idea 	4:44
5 	Walkin' With Zach 	6:50
6 	Jive Samba 	5:48
7 	You've Changed 	6:11
8 	Guess Who 	5:21
9 	Listen Here 	11:36
10 	Please Send Me Someone To Love 	4:51

Alto Saxophone, Tenor Saxophone – Ernie Watts
Bass – Luther Hughes
Drums – Paul Kreibich
Guitar – Frank Potenza
Organ – Jack McDuff
Piano – Gene Harris
Tenor Saxophone – Red Holloway
Vocals – Niki Harris

If you like your jazz tinted with gospel, blues and soul, you gotta love Gene Harris' two-fisted piano work.
Alley Cats is vintage Harris. Recorded live at Jazz Alley in Seattle, the album features the leader's quartet (guitarist Frank Potenza, bassist Luther Hughes and drummer Paul Kreibich) along with veteran saxophonists Red Holloway and Ernie Watts. Harris and the saxmen establish the energy level here, and they don't hold anything back.
Harris' goal for Alley Cats was to get funky, and his ensemble surely accomplishes that objective on tunes like the Crusaders' "Put It Where You Want It," Cannonball Adderley's "Jive Samba" and an extended version of the soulful Eddie Harris composition "Listen Here." But Alley Cats also demonstrates Gene Harris' considerable versatility on keys. On Ernie Watts' fast-paced original "Bird's Idea," the pianist delivers a furious bop solo. On "Magic Lady," he embellishes a rapid Latin-soul groove. He comps beautifully behind daughter Nikki's vocals on "You've Changed." Then he trades bluesy runs with organist Jack McDuff on "Walkin' With Zack" and "Listen Here."
Stylistically, Alley Cats covers a lot of ground: soul-jazz, mainstream, a hint of gospel, bluesy jazz, occasional Latin grooves, a bop tune and a ballad. Leader Harris' fiery piano work is as soul-drenched as ever. Normally a tenor player, Watts blows alto on four tracks here. Daughter Niki's vocals sound a little thin on the two cuts where she's featured, but aside from that, Alley Cats is hot stuff. ---Ed Kopp, allaboutjazz.com
Too many artists have gone their entire careers without providing any live albums, but that hasn't been a problem for Gene Harris whose live recordings from the 1980s and 1990s ranged from unaccompanied solo piano to big-band dates. Arguably, the best live album he gave listeners in the 1990s was Alley Cats; recorded live at Jazz Alley in Seattle on December 11-12, 1998, this CD finds Harris' working quintet (Harris on piano, Frank Potenza on guitar, Luther Hughes on bass, and Paul Kreibich on drums) joined by such accomplished soloists as Red Holloway (tenor sax), Ernie Watts (alto and tenor sax), and Jack McDuff (organ). Many inspired moments occur, and a 65-year-old Harris really goes that extra mile on gems ranging from Nat Adderley's "Jive Samba" and Benny Golson's "Blues March" to Joe Sample's "Put It Where You Want It" (which, in the 1970s, was introduced by the Crusaders before being covered by the Average White Band). A talented but underexposed singer (underexposed in the 1990s, anyway) who has recorded R&B albums but is quite capable of handling jazz, Harris' daughter Niki Harris is featured on earthy performances of "You've Changed," "Please Send Me Someone to Love," and "Guess Who." McDuff, meanwhile, brings his gritty, down-home Hammond B-3 to two songs: Eddie Harris' "Listen Here" and Gene Harris' "Walkin' With Zach." Soul-jazz enthusiasts will definitely want this excellent CD. ---Alex Henderson, AllMusic Review
download (mp3 @320 kbs):
yandex mediafire ulozto gett bayfiles