Furtwangler Conducting Wagner (5 LP) [1992]
Furtwangler Conducting Wagner (5 LP) [1992]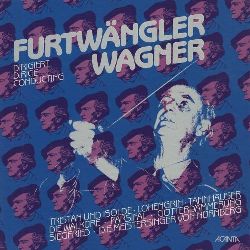 LP 01
Side 1
TRISTAN UND ISOLDE

1) Vorspiel zum 1. Aufzug
Orchester der Bayreuther Festpiele
Aufgenommen 1931, Bayreuth

2) Vorspiel zum 3. Aufzug
Orchester der Staatsoper Berlin
Aufgenommen 1947, Admiralspalast Berlin

3) Isoldes Liebestod (Konzertfassung)
Stockholms Konsertforenings Orkester
Aufgenommen am 25.11.1942, Stockholm

Side 2
1) Orchestereinleitung zum 2. Aufzug und 1. Auftritt Isolde – Brangane: "Horst du sie noch?"
2) 2. Aufzug, 3. Auftritt: "Tatest du's wirklich?" bis Finale 2. Aufzug

LP 02
Side 1
1) 3. Aufzug: "Dunkt dich das? Ich weiB e sanders" bis Ende Tristans Tod (gekurzt)
Tristan (Ludwig Suthaus)
Konig Marke (Gottlob Frick)
Isolde (Erna Schluter)
Kurwenal (Jaro Prohaska)
Brangane (Margarete Klose)
Melot (Kurt Rehm)
Hirt (Gerhard Witting)
Orchester der Staatsoper Berlin
Aufgenommen am 3.10.1947, Berlin, Admiralspalast

Side 2
LOHENGRIN
1) Vorspiel zum 3. Aufzug – Brautchor – "Das suBe Lied verhallt"
2) "Heil Konig Heinrich – Habt Dankt, ihr Lieben von Brabant"
3) "In fernem Land" (Gralserzahlung)
4) "Mein lieber Schwan – Fahr heim! Fahr heim!" (Finale)
Konig Heinrich
Lohengrin (Franz Volker)
Elsa (Margarete Klose)
Ortrud (Margarete Klose)
Chor und Orchester der Bayreuther Festspiele
Aufgenommen 1936, Bayreuth

LP 03
Side 1
TANNHAUSER
1) Ouverture
Orchester der Staatsoper Berlin
Aufgenommen 1936, Berlin

2) Fragment aus dem Sangerkrieg auf der Wartburg
Tannhauser (Gotthelf Pistor)
Wolfram (Alexander Sved)
Orchester der Staatsoper Wien
Aufgenommen 1936, Wien

DIE WALKURE
3) Orchestervorspiel zum 3. Aufzug
Orchester des Opernhauses Covent Garden
Aufgenommen 1937, London

Side 2
1) 3. Aufzug (2. Teil)

LP 04
Side 1
1) 3. Aufzug (Finale)
Wotan (Rudolf Bockelmann)
Sieglinde (Maria Muller)
Brunnhilde (Kiraten Flagstad)
Helmwige (Elsa Stenning)
Gerhilde (Mae Carven)
Ortlinde (Thelma Bardsley)
Waltraute (Linda Seymour)
Siegrune (Edith Coates)
Rossweisse (Evelyn Arden)
Grimgerde (Gwladys Garside)
Schwertleite (Gladys Ripley)
Orchester der Opernhauses Covent Garden
Aufgenommen 1937, London

Side 2
PARSIFAL
1) Vorspiel zum 1. Aufzug
Staatskapelle Berlin
Aufgenommen 1940, Berlin

DIE MEISTERSINGER VON NURNBERG
2) "Halt! Meister! Nicht so geeilt!"
3) "Was duftet doch der Flieder – Guten Abend, Meister!"
Hans Sachs (Rudolf Bockelmann)
Veit Pogner (Josef von Manowarda)
Konrad Nachtigall (Erch Burger)
Fritz Kotner (Georg Hann)
Sixtus Beckmesser (Eugen Fuchs)
Eva (Tiana Lemnitz)
Magdalene (Ruth Berglund)
Orchester der Staatsoper Wien
Aufgenommen am 5.9.1938, Nurnberg

LP 05
Side 1
SIEGFRIED
1) Zwischenaktmusik
Staatskapelle Berlin
Aufgenommen 1940, Berlin

GOTTERDAMMERUNG
2) Siegfrieds Rheinfahet
Staatskapelle Berlin
Aufgenommen 1940, Berlin

3) "Brunnhild', die heerste Frau"
Brunnhilde (Frida Leider)
Siegfried (Lauritz Melchior)
Gunther (Herbert Janssen)
Hagen (Ludwig Weber)
Gutrune (Maria Nezadal)
Orchester des Opernhauses Covent garden
Aufgenommen 1936, London

Side 2
1) "Her den Ring! – Schweigt eures Jammers jauchzenden Schwall – Starke Scheite schichtet mir dort"
Brunnhilde (Kirsten Flagstad)
Gutrune (Maria Nezadal)
Hagen (Ludwig Weber)
Orchester des Opernhauses covent Garden
Aufgenommen am 1.6.1937, London

Orchestra: 
Orchestra Der Bayreuther Festspiele, 
Orchestra Der Staatsoper Berlin, 
Stockholms Konsertforenings Orkester, 
Orchestra Des Opernhauses Covent Garden, 
Staatskapelle Berlin

Conductor: Wilhelm Furtwangler

Wilhelm Furtwängler (January 25, 1886 – November 30, 1954) was a German conductor and composer. He is widely considered to have been one of the greatest symphonic and operatic conductors of the 20th century. By the 1930s he had built a reputation as one of the leading conductors in Europe, and he was the leading conductor who remained in Germany during the Second World War. Although he was never a member of the Nazi party, the morality of his decision to remain working in Germany during this period has been continually debated since his death. However even today, many musicians, critics and record collectors still revere him for his very subjective conducting style, which is often compared and contrasted to the more objective style of Arturo Toscanini, who was probably the most famous conductor at the time. Like Toscanini, Furtwängler was a major influence on many later conductors, and his name is often mentioned when discussing their interpretive style.
At his first concert, he led the Kaim Orchestra (now the Munich Philharmonic) in Anton Bruckner's Ninth Symphony. He subsequently held posts at Munich, Strasbourg, Lübeck, Mannheim, Frankfurt, and Vienna, before securing a job at the Berlin Staatskapelle in 1920, and in 1922 at the Leipzig Gewandhaus Orchestra where he succeeded Arthur Nikisch, and concurrently at the prestigious Berlin Philharmonic Orchestra.
Furtwängler also made a number of appearances as a conductor abroad. He made his London debut in 1924, and continued to appear there as late as 1938 to conduct a cycle of Richard Wagner's Ring.
Furtwängler is most famous for his performances of Beethoven, Brahms, Bruckner, and Wagner. However, he was also a champion of modern music, notably the works of Paul Hindemith and Arnold Schoenberg, and conducted the world premiere of Sergei Prokofiev's Fifth Piano Concerto (with the composer at the piano) on October 31, 1932 as well as performances of Béla Bartók's Concerto for Orchestra.
Furtwängler had a unique conducting technique. He saw symphonic music as creations of nature that could only be realised subjectively into sound. This is why composers such as Beethoven, Brahms and Bruckner were so central to Furtwängler's repertoire, because he identified them as great forces of nature.
Many commentators and critics regard him as the greatest conductor in history. However, on the website Classics Today, critic David Hurwitz, a spokesman for modern literalism and precision, sharply criticizes what he terms "the Furtwangler wackos" who "will forgive him virtually any lapse, no matter how severe", and characterizes the conductor himself as "occasionally incandescent but criminally sloppy". ---wikipedia
download:
yandex: CD1-CD2 CD3-CD4-CD5
4shared: CD1-CD2 CD3-CD4-CD5
mediafire: CD1-CD2 CD3-CD4-CD5
solidfiles: CD1-CD2 CD3-CD4-CD5
mega: CD1-CD2 CD3-CD4-CD5
zalivalka: CD1-CD2 CD3-CD4-CD5
filecloudio: CD1-CD2 CD3-CD4-CD5
anonfiles: CD1-CD2 CD3-CD4-CD5
oboom: CD1-CD2 CD3-CD4-CD5
Last Updated (Sunday, 29 June 2014 21:25)