Natalie Dessay - Mad Scenes (2009)
Natalie Dessay - Mad Scenes (2009)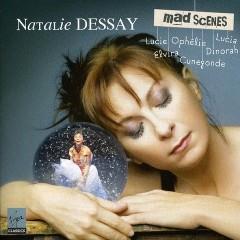 1 Gaetano Donizetti - Lucie Di Lammermoor: Mon Nom S'est Fait Entendre...	17:20

Lucie – Natalie Dessay
Ashton – Ludovic Tézier
Raymond – Nocolas Cavallier
Orchestre & Chœurs de l'Opéra de Lyon
Conductor – Evelino Pidò

2 Vincenzo Bellini - I Puritani: O Rendetemi La Speme...		16:34

Elvira – Natalie Dessay
Riccardo – Franck Ferrari
Giorgio – Matthew Rose
Concerto Köln
Conductor – Evelino Pidò

3 Ambroise Thomas - Hamlet: A Vos Jeux Mes Amis	13:26

Ophélie – Natalie Dessay
Orchestre National du Capitole de Toulouse
Conductor – Michel Plasson

4 Leonard Bernstein - Candide: Glitter And Be Gay	5:47

Cunegonde – Natalie Dessay
London Philharmonic Orchestra
Conductor – Andrew Davis

5 Giacomo Meyerbeer - Le Pardon De Ploermel: Ombre Légère		7:49

Dinorah – Natalie Dessay
Orchestre Philharmonique de Monte-Carlo
Conductor – Patrick Fournillier

6 Gaetano Donizetti - Lucia Di Lammermoor: Il Dolce Suono...	16:38

Lucia – Natalie Dessay
Enrico – Franck Ferrari
Raimondo – Matthew Rose
Normanno – Wolfgang Klose
Concerto Köln
Conductor – Evelino Pidò

Natalie Dessay's collection of coloratura mad scenes from Italian, French, and American opera is culled from a variety of previous high-profile releases of recitals and complete operas, so avid fans of the soprano aren't likely to find new performances here, except perhaps Glitter and be gay, from Candide, from the 1997 EMI disc Centenary Gala at Glyndebourne. This disc makes an excellent introduction for listeners new to Dessay, though. It highlights her acute dramatic gifts, both tragic and comic, and her characteristic gleaming purity, agile flexibility, and focused musicality are evident throughout. While comic arias aren't generally considered mad scenes, the Bernstein perhaps qualifies for expressing a different kind of madness, and Dessay's riotous performance is deliriously and deliciously over the top. One of the most interesting things about the album is the inclusion of Lucia's mad scene from both the Italian and French versions of the opera, both conducted by Evelino Pidò, the French from a 2002 recording of the complete opera, and the Italian from 2007 recital.
Dessay is in top form in both performances (even though the first was made just prior to the vocal difficulties that required surgery). The 2007 version ultimately makes a stronger impression, though, because Dessay's characterization has matured, and this Lucia seems more deeply tragic. Also, the use of a glass harmonica, instead of the flutes that replace it in most modern performance, provides a distinctive ghostly halo that makes a tremendous difference in the tone of the scene. Pidò, who leads Concerto Köln on three tracks, offers an especially attentive and sensitive accompaniment. The ambience of the sound varies between tracks because of the diverse sources of the recordings, but it is never less than very fine. ---Stephen Eddins, AllMusic Review
Going mad on stage necessarily involves making a frightful racket, unlike the crushing, often silent insanity of real life.
Here is Natalie Dessay to prove it with half a dozen demonstrations from operas such as Donizetti's Lucia di Lammermoor, Bellini's I Puritani, Verdi's Hamlet, Bernstein's Candide and Meyerbeer's Le Pardon de Ploërmel. The liner notes provide a kind of potted analysis of each of the French soprano's subjects, in case we think all madnesses are identical. Given the form she displays, we expect Dessay's voice to be all over the place at a moment's notice, but there it is, on the note every time. Are there any operas in which the heroine's madness is anything other than deeply tragic?
Donizetti was one composer who should know, starting and ending this CD with the two longest items on it, but finding only anguish for Dessay to sing about, even though she is allowed two minutes longer to keep looking than she is credited with in the notes. One listener's sparkling coloratura is another listener's silly noises, proving that a singer can have more control over their voice than they know what to usefully do with.
But the rather debatable attraction of hearing the drama of over-the-top theatrical madness has been determined to be the selling point of this CD, and it is unlikely that any soprano around could take the vocal gymnastics further than Dessay. A long CD's worth of music to be bought, admired and respected, but perhaps not exactly enjoyed. ---Ken Page, limelightmagazine.com.au
download (mp3 @320 kbs):
yandex 4shared mega mediafire uloz.to cloudmailru gett