Kathleen Battle – A Portrait (2002)
Kathleen Battle – A Portrait (2002)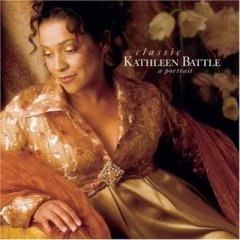 01. O mìo babbino caro from Gianni Schicchi
02. Let the Bright Seraphim from Samson, HWV 57
03. Dormi, Jesus
04. Canción de cuna
05. Movement 9 From Mythodea - Music For The Nasa Mission: 2001 Mars Odyssey (Excerpt) London Metropolitan Orchestra
06. Laudate Dominum from Vesperae solennes de confessore, K. 339 (
07. Rejoice Greatly from Messiah, HWV 56 (Voice)
08. Fix Me Jesus
09. Pie Jesu from the Requiem, Op. 48
10. El Noi de la Mare (The Son of the Virgin)r Parkening
11. El desembre congelat (December's cold winds were stilled
12. Prelude to a Kiss
13. Eternal Source of Light Divine (Ode for the Birthday of Queen Anne, HWV 74)
14. Alleluja from Exsultate, jubilate, KV. 158a
15. Angels Watching Over Me
16. IV. Sehr behaglich. "Wir geniessen die himmlischen Freuden" from Symphony No. 4 in G Major (Excerpt)
17. 1. Aria from Cantata No. 51 "Jauchzet Gott in allen Landen", BWV 51
18. Going Home from "Largo" of Symphony No. 9 in E minor, Op. 95 " From the New World"   

Kathleen Battle initially made her considerable reputation on the operatic stage, but quickly went on to become a premier recitalist and a vibrant interpreter of a wide variety of musical styles. CLASSIC KATHLEEN BATTLE - A PORTRAIT is an overview of the dynamic soprano's career that emphasizes her remarkable versatility. Her extraordinary technical control is shown to great effect in works by Handel and Bach, and her crystal clear readings of Mozart's "Laudate Dominum" and "Alleluja" leave no doubt as to why she's considered one of the leading exponents of his work. She moves with confidence and grace through traditional folksongs from Brazil, Chile, and Catalonia and exhibits pure vocal beauty in selections by Fauré, Dvorák, and Mahler. The disc boasts an impressive roster of guest stars and also offers several fine new recordings: a delicately rendered "O mio babbino caro" from Puccini's 'Gianni Schicchi,' moving a cappella versions of the spirituals "Fix Me Jesus" and "Angels Watching Over Me," and a sensuous account of Duke Ellington's "Prelude To A Kiss" that features the marvelous piano accompaniment of Kenny Barron. What ultimately binds this varied collection is Battle's radiant voice and consummate artistry. ---Rovi
download: uploaded yandex anonfiles 4shared solidfiles mediafire mega filecloudio nornar
Last Updated (Wednesday, 22 January 2014 14:34)