Jose Carreras - Passion (1996)
Jose Carreras - Passion (1996)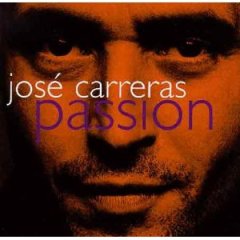 1. Concierto de Arajuez: En Aranjuez con tu amor: Second Movement: Adagio
2. Close To Me: Symphony No.3 Op.90 In F Major Third Movement: Poco Allegretto
3. Tristesse: Etude Op.10 No.3 In E Major
4. O Lieb: Come Take My Heart: Liebestraum No.3
5. Adagio: Amore Perduto: Adagio
6. The New World: If Tomorrow Comes: Symphony No.9 Op.95
7. Panis Angelicus
8. Love Is A Melody: Clarinet Concert K.622 In A Major Second Movement: Adagio
9. Cavalleria Rustica: Dreaming Of You: Intermezzo
10. Prince Igor: My Own Little Miracle
11. Pathetique: I Remember You: Piano Sonata No.8 In C Minor Second Mov. Adagio Cantabile
12. Back's Das Wohltemperierte Klavier: Ave Maria
13. The New World: Brave New World: Symphony No.9 Op.95 In E Minor

José Carreras - tenor
London Angel Orchestra
English Consort Singers
John Cameron - Arranger, Conductor, Vocal Arrangement, Executive Musical Director
Michael Reed - conductor

This album is a result of Carreras' wish to be able to sing some of the most beautiful instrumental music in the world. It's really a wonderful idea. I just wish he had had better lyricists.
The English lyricists, unfortunately, aren't always on target here. I feel they have varying success with the lyrics written to this wonderful music. In my opinion the song "Close to me" is one of the better attempts here while "Love is a melody" is not. I read a review of this song somewhere and the reviewer said that it reminded him of a person locked out because of the sentences "Searching in the night, I found the light I found the key" and unfortunately I have to agree with him.
The Spanish song "En Aranjuez con tu amor" (the music written by Joaquin Rodrigo) is my absolute favourite song in this album. I can't comment on the lyrics as I don't speak a single word of Spanish, but the music is really beautiful and no-one sings Spanish like Carreras. I also love the aforementioned "Close to me" where the music is written by Brahms. It's a wonderful and romantic piece of music and when you add the sensual voice of José Carreras it's an absolutely irresistible combination.
Even if I have a few reservations about the English lyrics I find this album to be very good; mostly because of Carreras' ability to make whatever he sings sound as though it comes directly from his heart. (I bet he could even sing my shopping list- which I might add, is not very exciting - with unrivalled passion). I wasn't sure whether to give the album 4 or 5 stars, but have decided to deduct one star, because of the English lyricists. José Carreras on the other hand, deserves 5 stars for doing a wonderful job with these sometimes soppy lyrics. ---PhantomOfTheOpera, amazon.com
download: uploaded yandex anonfiles 4shared solidfiles mediafire mega filecloudio nornar
Last Updated (Sunday, 19 January 2014 14:20)