Atom String Quartet - Supernova (2018)
Atom String Quartet - Supernova (2018)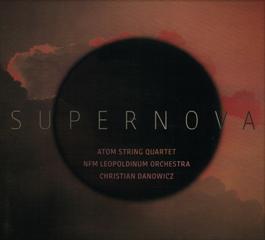 1.Krzysztof Lenczowski - Supernova
2.Dawid Lubowicz - Toccata
3.Krzysztof Lenczowski - Waves
4.Hanna Kulenty - Concerto Rosso
5.Michał Zaborski - Melody of the Prairie
6.Mateusz Smoczyński - Cosmos
7.Dawid Lubowicz - Za wcześnie
8.Mateusz Smoczyński - Happy

Atom String Quartet:
- Dawid Lubowicz – violin
- Mateusz Smoczyński – violin
- Michał Zaborski – viola
- Krzysztof Lenczowski – cello

NFM Orchestra Leopoldinum
Christian Danowicz - conductor

Supernova – the second album of the Atom String Quartet recorded with the NFM Leopoldinum Orchestra is a kind of summary of the interesting and inspiring two-year collaboration of both ensembles. The album features compositions by members of the Atom String Quartet: Krzysztof Lenczowski, Dawid Lubowicz, Mateusz Smoczyński and Michał Zaborski for jazz string quartet and string orchestra, as well as Concerto Rosso – a new piece by Polish composer Hanna Kulenty-Majoor dedicated to ASQ and NFM LO.
'Since I have been associated with the NFM Leopoldinum Orchestra, I observe (...) the nobvious direction in which this orchestra is going, still looking for something new, something that would allow them to gain his own identity.
This direction was largely delineated by the Leopoldinum's previous artistic director, Ernst Kovacic, who was constantly looking for a new, original repertoire for the orchestra, performing unknown or forgotten pieces, commissioning new works from contemporary composers and creating the unique Leo Festival. (...) The composer, in my opinion perfectly in line with the direction chosen by the orchestra, is Hanna Kulenty-Majoor – a brave, original and charismatic artist whose works we have often performed, also during the Leo Festival. Therefore, when the idea of commissioning a work for the NFM Leopoldinum Orkiestra and Atom String Quartet was born, I had no doubt that we should turn to Hanna Kulenty-Majoor, whose energetic style suits both the Atom String Quartet and NFM Leopoldinum.
Music has always developed by mixing different styles, especially in the twentieth century. Maybe a new style is just being created somewhere between improvised and serious music? (...).'
A fragment of the text by Christian Danowicz placed in a booklet attached to the Supernova album. ---cdaccord.com.pl
Niezwykle ciekawy i różnorodny repertuar pojawia się na płytach Atomic String Quartet oraz muzyków tego znamienitego polskiego zespołu kameralnego. Z jednej strony folklowo-jazzowo-klasyczny "Zakopawer/Atom String Quartet" ,z drugiej "Seifert" z kultowymi kompozycjami najważniejszego polskiego skrzypka jazzu; do tego jazzowy " Berek " formacji Mateusza Smoczyńskiego oraz subtelny "Le Jardin Oublie/My Polish Heart" – nagrany wraz z pianistą-wirtuozem Vladislavem Sendeckim. Teraz kolejny – po doskonałym "Made in Poland" – klasyczny album " Supernova " zrealizowany przez kwartet wraz z Leopoldinum Orchestra.
O ile poprzedni projekt "Made in Poland" Atom String Quartet wraz z Orkiestrą Leopoldinum ( prowadzoną przez jednego z najwybitniejszych polskich skrzypków Christiana Danowicza) przedstawiał śmiałe, nie pozbawione elementów improwizacyjnych i folkowych interpretacje z kanonu polskiej muzyki współczesnej to "Supernova" wnosi już wyłącznie autorskie kompozycje muzyków kwartetu. Sesja "Made in Poland" zawierała zatem kompozycje Karola Szymanowskiego, Grażyny Bacewicz i Mikołaja Góreckiego z nieśmiałym elementem autorskich koncepcji ( " Ballad on Death of Janosik" – Dawida Lubowicza oraz "Iława" i "Namysłowiak" – Krzysztofa Lenczowskiego). Teraz wraz Orkiestrą Leopoldinum wszechstronny Atom String Quartet mierzy się już tylko interpretując własne utwory ( "Supernova" i "Fale"- Krzysztofa Lenczowskiego, "Toccata" i "Za Wcześnie" – Dawida Lubowicza, "Cosmos" i "Happy"- Mateusza Smoczyńskiego, "Melody of the Praire"- Michała Zaborskiego oraz – jedyny w tym zestawie "Concerto Rosso" Hanny Kulenty-Majoor).
Atom String Quartet (Dawid Lubowicz – skrzypce; Mateusz Smoczyński – skrzypce ; Michał Zaborski – altówka oraz Krzysztof Lenczowski – wiolonczela) jest jednym z najbardziej intrygujących kwartetów smyczkowych na świecie oraz należy do grona najlepszych wykonawców kameralistyki jazzowej. Wraz z Kronos Quartet, Radio String Quartet oraz Turtle Island Quartet stanowią elitę dzisiejszej kameralistyki, w której łączą się możliwości kwartetu smyczkowego z szeroko rozumianą improwizacją. W jego twórczości Atom String Quartet – oprócz jazzu – słychać inspiracje polskim folklorem, muzyką z różnych regionów świata, a także muzyką współczesną i klasyczną. Do tego znamienita współpraca z Orkiestrą Leopoldinum dopełnia obrazu wszechstronności interpretacyjnej oraz kreatywnej obu zespołów. ---Dionizy Prątkowski, jazz.pl
download (mp3 @320 kbs):
yandex mediafire ulozto gett bayfiles