Willem de Fesch – Joseph (Jed Wentz) (2000)
Willem de Fesch – Joseph (Jed Wentz) (2000)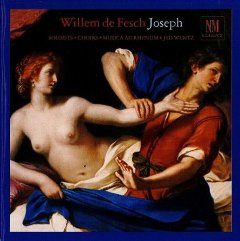 Disc: 1
  1. Joseph: Overture
  2. Joseph: Be Ware You Talk No More Of These Your Idle Slumbers
  3. Joseph: Happy Youth
  4. Joseph: But Hark The Host Of Cherubims!...
  5. Joseph: Happy Youth
  6. Joseph: Alas My Eager Haste To Shew My Fond Obedience
  7. Joseph: I'll Lion The Dauntless Meet
  8. Joseph: And See Where Sent By Providence A Guide Arrives...
  9. Joseph: Let Me Hasten Away
  10. Joseph: Surely Did Not Our Faintness Tell This World's Great Eye...
  11. Joseph: Underneath The Plantane Shade
  12. Joseph: See In A Lucky Moment Comes The Hated Dreamer
  13. Joseph: Tremble Shudder At The Guilt
  14. Joseph: With What Intrepid Air & Reason Argues He...
  15. Joseph: Let It Be So
  16. Joseph: There, Saucy Vanter Sleep Your Fill...
  17. Joseph: Dream Again Of Sun And Moon
  18. Joseph: Oh Barbarous Effect Of Jealous Pride...
  19. Joseph: Take Me Dying, Silent Grave
  20. Joseph: But A Few Paces Farther And We'll Find Him...
  21. Joseph: Where Am I Going?...
  22. Joseph: O'er The Desarts, O'er The Main

Disc: 2
  1. Joseph: These Thorns & Brambles I Remark'd
  2. Joseph: O Gracious Lord, O Lord Of Israel
  3. Joseph: Unheard Of Carelessness Or Dastard Cowardice...
  4. Joseph: How Wisely Providence Bechquers Still Our Pilgrimage
  5. Joseph: Let Me Ever Look To Thee
  6. Joseph: But Still One Dread Remains Not In The Least...
  7. Joseph: Such A Lovely Prudent Youth
  8. Joseph: Too Well, I Dread, I Understand Her...
  9. Joseph: The Mower Calls With Chearfull Note...
  10. Joseph: Sure I In Absence Of The Lord...
  11. Joseph: I See What I Dare Not Say
  12. Joseph: Furies! Death And Torture
  13. Joseph: Dark And Dismal Thoughts
  14. Joseph: And See Where Opportunely Comes...
  15. Joseph: Revenge Inspires Me, Honour Fires Me

Disc: 3
  1. Joseph: What Strange Revolutions Yet...
  2. Joseph: The Lord Who From The Murd'ring Knife
  3. Joseph: Where Is The Pris'ner So Renown'd
  4. Joseph: Honour, Wealth & Power Too
  5. Joseph: Oh Racking Torment...
  6. Joseph: Prostrate On The Earth We'll Say
  7. Joseph: With Contrite Heart & Weeping Eyes
  8. Joseph: To Our Contrition Let Us Add Obidience...
  9. Joseph: Blow The Fife With Chearfull Noise
  10. Joseph: Thus By Our Sovereign's Command...
  11. Joseph: Ye Lofty Columns, Guilded Roofs...
  12. Joseph: But Bless My Eyes!...
  13. Joseph: Wisdom With Its Poignant Eye
  14. Joseph: Away With'em
  15. Joseph: How Heav'n Show'rs Its Blessings On Me...
  16. Joseph: Blood, This Hasty Course Give O'er
  17. Joseph: I Must With In Repose My Self To Calmness...
  18. Joseph: We're Now Upon AEgyptian Ground...
  19. Joseph: The Howling Wolf At Midnight Roams
  20. Joseph: Bring In The Strangers
  21. Joseph: Feeding Flocks Upon The Plain
  22. Joseph: In Your All-Discerning Mind
  23. Joseph: I Can Withhold No Longer...
  24. Joseph: Whilst My Rapture I Conceal
  25. Joseph: They Do Not Yeet Discover Me...
  26. Joseph: O Heav'ns Our Brother
  27. Joseph: I Pray Ye Rise...
  28. Joseph: O Delight Beyond Expressing/O Unutterable Blessing
  29. Joseph: Let Us Our Gratefull Voices Raise

Claron McFadden (soprano: Joseph), 
Roberta Alexander (soprano: Potiphar's wife), 
Susanna Moncayo Von Hase (alto: Reuben), 
Nico Van Der Meel (tenor: Potiphar, Ishmaelite), 
Henk Vonk (tenor: Simeon), 
Tom Sol (bass: Jacob, General), 
Susanna Ten Wolde (soprano: Benjamin, Stranger), 
Jasper Schwepper (baritone: Gaoler),

Nationaal Kinderkoor, 
Viri Cantores, 
Musica Ad Rhenum, 
Jed Wentz (conductor).

Willem de Fesch was born in 1687. Until 1730 he lived and worked in Amsterdam and Antwerp respectively. In 1732 he appeared in London. He worked as violinist and his wife, Maria-Anna Rosier, performed as a singer. De Fesch composed two oratorios, Judith (1733), and Joseph (1745). Both of De Fesch' oratorios were thought to be lost. But in the 1980's his second oratorio Joseph was rediscovered and performed.
This work is based on the story of Joseph and his brothers from the Old Testament, the same subject Handel's oratorio Joseph and His Brethren is based upon. The writer of the libretto is unknown. He used only parts of the story of Joseph as told in Genesis, chapters 37 - 45. The character of Joseph is very dominant in this work: he sings 10 arias, all the other characters together just 8. His main "opponent", his brother Simeon, who is the villain of the piece, has only one short aria, one arioso and one duet.
It is almost inevitable to compare an oratorio like this with Handel's. From that perspective it has to be said that Handel's oratorios are more dramatic. There is a strong difference, for example, in the dramatic power of the choruses. Handel's choruses are much more part of the drama than those of De Fesch. On the other hand, one doesn't find unconvincing situations in Joseph, nor are there characters which are purely the result of the librettist's imagination. All characters are from the Bible. True, Simeon isn't mentioned in the Bible as the instigator of the conspiracy against Joseph, but he is 'pars pro toto': he represents the brothers, which is, dramatically speaking, wholly convincing. From a dramatic point of view De Fesch can't compete with Handel, but his music is always of a high quality, the orchestral parts are always very effective and illustrate the content of the arias quite beautifully.
The performance as a whole is excellent. As I said, the dominant character is Joseph. I am very happy and pleasantly surprised by the interpretation by Claron McFadden. Technically she puts up a tremendous performance, but she also lives the character of Joseph perfectly. Her ornaments are always tasteful and often quite virtuoso. The tenor Henk Vonk doesn't have a voice which I would like to hear in baroque music, but the choice of this singer turns out to be a blessing in disguise. Simeon is chacterised as a crude lout, and Vonk does realise that very convincingly. The oldest brother Ruben is a very sensitive person, who lets his conscience speak and tries to save Joseph's skin. His role is very well sung by the contralto Susanna Moncayo von Hase. I am not very happy with Roberta Alexander's performance. She clearly doesn't feel comfortable in this kind of repertoire, and stylistically she is a little out of touch with the cast as a whole. Nico van der Meel as the Ishmaelite merchant (act 1) and Potiphar (act 2) and Tom Sol as Joseph's father Jacob (act 1 and 2) and Joseph's general (act 3) both give good performances. The role of Joseph's youngest brother Benjamin is sung by a girl from the choir. Although I have great respect for her performance, I am disappointed that Jed Wentz didn't look for a good treble from an English or German boys' choir. The only aria of Benjamin is a little hesitant. I am sure a good boy singer could have made more of it.
That brings me to the choir. It contains of the children of the Netherlands National Youth Choir and the 8 men's voices of Viri Cantores. The choir is a little too massive and lacks clarity. That has to do with a lack of experience in this kind of repertoire, but also with the fact that almost all members of youth choirs are girls. There is a strong difference between girls' and boys' voices: the former lack the strenght and penetration of the latter. From a musical and historical point of view I would have preferred a good boys' choir. I have nothing but praise for the performance of the orchestra, Musica ad Rhenum. It is technically brilliant, colourful and powerful. All solo parts are magnificently realised, like those of the two bassoons in Simeon's aria 'The Howling Wolf' or the solo strings in Joseph's aria 'Take me Dying'.
There are some aspects of this production which are up for criticism. First the acoustics. The oratorio was originally performed in Covent Garden Theatre. Although I don't know what acoustics that theatre had, mostly the acoustics of a theatre is quite dry. That isn't very pleasant to listen to on a CD, but the church acoustics on this recording is a little too reverberant. It makes a clear split between the tracks difficult: if you programme a track with an aria, you get the end of the preceding recitative as well. That shouldn't happen.
The booklet contains an interesting essay on De Fesch and on the English oratorio, but I wonder for whom it is written. I don't think that many people who buy a recording like this one, don't know what a da capo-aria is - which is extensively explained in the booklet - or what an oratorio is. I would have liked to read more about the work itself instead. A little more about the relationship between text and music (and instrumentation) would have been nice. Robert King does a better job in his oratorio recordings, as far as that is concerned. I also regret the lack of a modern translation of the 18th century libretto. Although it is in English, it isn't always easy to follow, in particular since the original spelling has been used. (Non-English speakers don't get a translation either, which I find unacceptable.)
The pronunciation is a little puzzling. I some cases the "r" is pronounced as a "rolling r", in others as an "American r". Whatever is correct, a clear choice should have been made. There are other inconsistencies in the pronunciation as well. There are also some dissimilarities between the text as sung and the text as printed in the booklet. Sometimes even an incorrect correction has been made. The word "vice-gerent" has been "corrected' into "vice-regent". But "vice-gerent" means "regent", so "vice-regent" is nonsense.
The criticism of some aspects of this recording notwithstanding I would like to recommend it. It is good to have recordings of oratorios other than those of Handel. He wasn't the only one who composed oratorios in 18th century England, although certainly the most important one. And this work is good enough to be performed and recorded. I certainly will play it regularly with great pleasure. ---Johan van Veen, musica-dei-donum.org
download (mp3 @320 kbs):
yandex 4shared mega mediafire cloudmailru uplea