Nathan Milstein – Aristocrat of the Violin (8CD) [2009]
Nathan Milstein – Aristocrat of the Violin (8CD) [2009]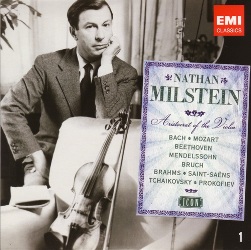 CD 1
01. J. S. Bach: Solo Sonata No.1 in G minor BWV1001: I. Adagio
02. II. Fuga: Allegro
03. III. Siciliano
04. IV. Presto
05. J. S. Bach: Solo Partita No.1 in B minor BWV1002: I. Allemande
06. II. Double
07. III. Courante
08. IV. Double Presto
09. V. Sarabande
10. VI. Double
11. VII. Tempo di Bourree
12. VIII. Double
13. J. S. Bach: Solo Sonata No.2 in A minor BWV1003: I. Grave
14. II. Fuga
15. III. Andante
16. IV. Allegro
17. J. S. Bach: Solo Partita No.2 in D minor BWV1004: I. Allemande
18. II. Courante
19. III. Sarabande
20. IV. Giga
21. V. Chaconne

CD 2
01. J. S. Bach: Solo Sonata No.3 in C BWV1005: I. Adagio
02. II. Fuga
03. III. Largo
04. IV. Allegro assai
05. J. S. Bach: Solo Partita No3.in E BWV1006: I. Preludio
06. II. Loure
07. III. Gavotte en Rondeau
08. IV. Menuett I
09. Menuett II
10. V. Bouree
11. VI. Gigue
12. A. Vivaldi: Violin Sonata No.2 in A Op.2. No.2: I. Preludio a capriccio – Adagio – Presto
13. II.Courrente: Allegro
14. III. Adagio
15. IV. Giga: Allegro
16. G. F. Handel: Violin Sonata No.4 in D Op.1 No.13 HWV371: I. Adagio
17. II. Allegro
18. III. Larghetto
19. IV. Allegro
20. (attrib.) T. A. Vitali: Chaconne in G minor [
21. G. Tartini: Violin Sonata in G minor 'Il trillo del diavolo' (arr. Kreisler): I. Larghetto
22. II. Allegro energico
23. III. Grave – Allegro assai – Cadenza – Adagio

CD 3
01. W. A. Mozart: Violin Sonata No.17 in C K296: I.Allegro vivace
02. II. Andante sostenuto
03. III. Rondeau – Allegro
04. Violin Sonata No.21 in E minor K304: I. Allegro
05. II. Tempo di menuetto
06. L.v Beethoven: Violin Sonata No.5 in F op.24 'Spring': I. Allegro
07. II. Adagio molto espressivo
08. III. Scherzo: Allegro molto
09. IV. Rondo: Allegro ma non troppo
10. Violin Sonata No.9 in A Op.47 'Kreutzer': I. Adagio sostenuto
11. II. Andante con variazioni I-IV
12. III. Finale presto

CD 4
01. Beethoven: Violin Concerto in D Op.61: I. Allegro ma non troppo
02. II. Larghetto
03. II. Rondo
04. Brahms: Violin Concertoin D Op.77: I. Allegro non troppo
05. II. Adagio
06. III. Allegro giocoso, ma non troppo vivace

CD 5
01. Tchaikovsky: Violin Concerto in D Op.35: I. Allegro moderato
02. II. Canzonetta: Andante
03. III. Finale: Allegro vivacissimo
04. Glazunov: Violin Concerto in A minor Op.82: I. Moderato – tranquillo
05. II. Andante – Tempo I – Cadenza
06. III. Animando – Allegro – Piu animando
07. Prokofiev: Violin Concerto No.1 in D Op.19: I. Allegro moderato
08. II. Scherzo: Vivacissimo
09. III. Moderato

CD 6
01. Saint-Saens: Violin Concerto No.3 in B minor Op.61: I. Allegro non troppo
02. II. Andantino quassi allegretto
03. III. Molto moderato e maestoso – Allegro non troppo
04. E. Chausson: Poeme Op.25
05. A. Dvorak: Violin Concerto in A minor Op.53: I. Allegro ma non troppo
06. II. Adagio ma non troppo
07. III. Finale: Allegro giocoso, ma non troppo

CD 7
01. Beethoven: Romance No.1 in G Op.40
02. Romance No.2 in F Op.50
03. Saint-Saens: Introduction and Rondo capriccioso Op.28
04. Mendelssohn: Violin Concerto in E minor Op.64: I. Allegro
05. II. Andante
06. III. Allegretto non troppo – Allegro molto vivace
07. Bruch: Violin Concerto No.1 in G minor Op.26: I. Allegro moderato
08. II. Adagio
09. III. Finale: Allegro energico

CD 8
01. Rachmaninov: Vocalise Op.34 No.14
02. Mussorgsky: Sorochintshy Fair – Gopak Arr.Jones
03. Glazunov: Meditation Op.32
04. Tchaikovsky: Valse-scherzo Op.34
05. Souvenir d'un lieu cher Op.42 arr. Glazunov: Meditation
06. Scherzo
07. Rimsky-Korsakov: Fantasia on Russian Themes Op.33 arr. Kreisler
08. The Tale of the Tsar Saltan – Flight of the Bumblebee arr. Hartmann
09. Brahms: hungarian Dance No.2 arr.Joachim
10. Massenet: Thais – Meditation arr. Marsick
11. Bach: Orchestral Suite No.3 in D BWV1068 – Air arr.Wilhelm
12. Gluck: Orfeo ad Euridice – Dance of the blessed Spirits arr.Kreisler
13. Chopin: Nocturne No.20 in C sharp Minor arr.Milnstein
14. Falla: Siete canciones populares espanolas – Jota arr.Kochanski
15. Wieniawski: Scherzo-Tarantella Op.16
16. Debussy: Preludes, Livre I – Minstrels arr. Hartmann
17. Sarasate: Introduction and Tarantella Op.43
18. Novacek: Perpetuum mobile
19. Kreisler: Praeludium and Allegro in the style of Pugnani

Nathan Milstein (violin)
Leon Pommers (piano) – CD 2, CD 3, CD 8
Rudolf Firkusny (piano) – CD 3
Artur Balsam (piano) – CD 2

Pittsburg Orchestra & William Steinberg – CD 4, CD 5, CD 6, CD 8
Philharmonic Orchestra & Anatole Fistoulari – Cd 4, CD 6, CD 7
Saint Louis Orchestra & Vladimir Golschmann – CD 5
Concert Arts Orchestra & Walter Susskind – CD 7
Orchestra & Robert Irving – CD 8

Nathan Mironovich Milstein was born in 1903 in Odessa (then in Russia but now in the Ukraine). His first violin lessons took place when he was just 7 years old in Odessa with the eminent teacher Piotr Stolyarsky who, a little later, taught David Oistrakh, and later still, his son Igor.
Milstein then took up studies in St. Petersburg at the invitation of the great Leopold Auer, himself a virtuoso of the violin and a hugely influential teacher. It was at this time that he became friendly with Jascha Heifetz and Vladimir Horenstein and, whilst on tour with Horowitz, the two young men decided not to return to Soviet Russia but to stay in the West.
In 1929 Milstein made his American début with Leopold Stokowski conducting the Philadelphia Orchestra. Eventually he settled in the US and became an American citizen in 1942. In 1948 Milstein's recording of the Mendelssohn E minor Concerto, with Bruno Walter conducting, became the very first item in Columbia Records' new LP catalogue.
This new Icon set of 8 well-filled CDs brings together a carefully-chosen selection of some of Milstein's greatest recordings for Capitol and EMI Classics, made during the years 1955 – 1964, when Milstein's incredible talent as one of the finest soloists of the 20th Century was at its best.
download:
yandex: CD1-2 CD3-4 CD5-6 CD7-8
4shared: CD1-2 CD3-4 CD5-6 CD7-8
mediafire: CD1-2 CD3-4 CD5-6 CD7-8
solidfiles: CD1-2 CD3-4 CD5-6 CD7-8
filecloudio: CD1-2 CD3-4 CD5-6 CD7-8
nornar: CD1-2 CD3-4 CD5-6 CD7-8
Last Updated (Sunday, 02 March 2014 10:51)