Great Voices of the Opera (2011) CD10 - Tito Gobbi
Great Voices of the Opera (2011) CD10 - Tito Gobbi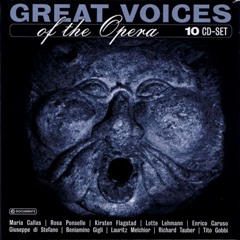 10-1 	–Tito Gobbi 	Don Giovanni: Deh Vieni Alla Finestra 	2:07
10-2 	–Tito Gobbi 	Don Carlos: Per Me Giunto è Il di Supremo 	3:42
10-3 	–Tito Gobbi 	Don Carlos: Io Morrò Ma Lieto In Core 	4:09
10-4 	–Tito Gobbi 	Zazà: Buona Zazà Del Mio Buon Tempo 	2:01
10-5 	–Tito Gobbi 	Zazà: Zasà, Piccola Zingara 	2:34
10-6 	–Tito Gobbi 	L'Arlesiana: Come Due Tizzi Accesi 	4:06
10-7 	–Tito Gobbi 	Le Nozze di Figaro: Non Più Anrai 	3:39
10-8 	–Tito Gobbi 	Otello: Vanne! La Tua Meta ... Credo In Un Dio Crudel 	4:28
10-9 	–Tito Gobbi 	I Pagliacci: Si Può? (Prologue) 	7:57
10-10 	–Tito Gobbi 	Il Barbiere di Sevilla: Largo Al Factotum 	4:51
10-11 	–Tito Gobbi 	La Fanciulla Del West: Minnie, Dalla Mia Casa 	2:43

Tito Gobbi was an admired operatic baritone. He originally studied at Padua University for a career in law, but he eventually gave that up in favor of pursuing voice lessons in Rome with Giulio Crimi. He made his operatic debut in the town of Gubbio in 1935, as Count Rodolfo in Bellini's La sonnambula. He was hired at Milan's La Scala for the 1935-1936 season as an understudy; his first appearance there was as the Herald in Ildebrando Pizzetti's Oreseolo.
He won the international singing competition in Vienna in 1936. As a result he began getting improved billing; he sang the role of Germont in La traviata at the Teatro Reale in Rome in 1937. In the same year he sang Lelio in Ermanno Wolf-Ferrari's Le donne curiose, and continued singing secondary roles through 1939 there. He was promoted to primary roles and in 1941 sang Ford in Verdi's Falstaff during a visit by the company to Berlin in 1941. Meanwhile, in a guest appearance at Rieti he first sang the role of Scarpia in Puccini's Tosca in 1940. This was to become his best-known part.
Gobbi made his La Scala debut in a major role in 1942 as Belcore in L'Elisir d'Amore. However, the performance that made him famous was as Wozzeck in the first Italian performance of Alban Berg's opera in Rome in November, 1942. Fighting raged throughout Italy following the Allied invasions there in 1943, interrupting his career. After the war he began to include international appearances. He first appeared in Stockholm in 1947 as Rigoletto; in 1948 he went to Covent Garden in concerts and to San Francisco to debut as Figaro in Rossini's Barber of Seville. His London operatic debut was at Covent Garden as Belcore when the La Scala Company toured there. He appeared in Chicago in 1954 as Rossini's Figaro, and debuted at the Metropolitan Opera Company as Scarpia, January 13, 1956. He sang Don Giovanni in Salzburg in 1952 under von Karajan's direction.
He took up producing as well, often at Chicago, where he made regular appearances, and producing opera became an ever more important part of his career after 1965, which is when he produced a performance starring himself in the title role of Verdi's Simon Boccanegra in London.
Although he was particularly well known for his portrayal of Verdi's baritone roles (including Posa in Don Carlos), and of Puccini's (Scarpia, Jack Rance, Gianni Schicchi), he had a very large repertory of well over 100 roles, including such rare operas as Malipiero's Ecuba (as Ulysses), Teprulov in Rocca's Monte Ivnor, the Count of Albaforita in Persico's La locandiera, and operas by Lualdi, Napoli, and Ghedini. He was an excellent actor, had a high degree of musicianship and intelligence, had a flexible, rich, but not large baritone voice, and was at home in a wide variety of parts. He also appeared in 26 movies. He was the brother-in-law of another eminent singer, Boris Christoff. Gobbi retired from the operatic stage in 1979. He published an autobiography (Tito Gobbi: My Life, 1979) and Tito Gobbi and His World of Italian Opera (1984). He left a significant legacy of recorded performances, mainly made in the 1950s and 1960s. ---Joseph Stevenson, allmusic.com
download (mp3 @320 kbs):
yandex mediafire ulozto cloudmailru gett