Aerosmith (2)
Aerosmith
1. Live In Japan 2002 (Flv)
750 MB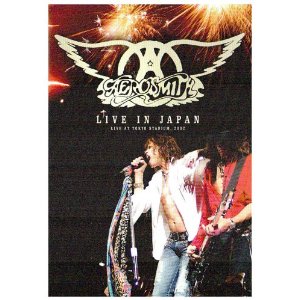 1. Back In The Saddle 
2. Love In An Elevator 
3. Just Push Play 
4. Jaded 
5. Mama Kin 
6. Pink 
7. Girls Of Summer 
8. Stop Messin' Around 
9. Dream On 
10. Draw The Line 
11. I Don't Want To Miss A Thing 
12. Cryin' 
13. Walk This Way 
14. Sweet Emotion 
15. Theme From Spider Man 
16. What It Takes 
17. Livin' On The Edge 
18. Train Kept A Rollin' ( with B'Z a Japanese rock band )

Line-Up
Steve Tyler: Vocals 
Joe Perry: Guitar
Brad Whitford: Guitar
Tom Hamilton: Bass
Joey Kramer: Drums

In June 2002, Aerosmith rocked an enthusiastic crowd of 50,000 as headliners of the "International Day", celebrated on the occasion of the FIFA World Championship in Tokyo, Japan.
For more than 35 years, Aerosmith have been able to keep up their status as one of the greatest rock bands the world's stages have ever seen. Their one-of-a-kind ballads, earthy rock songs, and divine guitar riffs keep rockin' the globe. Thanks to their unmistakable style and an on-the-spot sound, Aerosmith are the great flagship of rock 'n' roll. Millions of records sold worldwide, numerous awards and trophies and numerous inductments into the Hall of Fame speak for themselves.
download (mp4 @315 MB):
yandex mega uloz.to cloudmailru
2. MTV Unplugged 1990 (Rmvb)
278 MB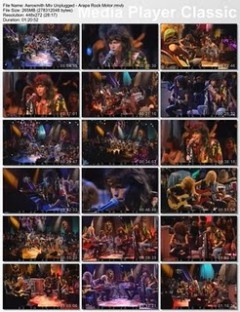 1. Hangman Jury
2. Monkey On My Back
3. Love Me Two Times
4. Seasons of Wither
5. Big Ten Inch Record
6. One Way Street
7. Somestack Lightning
8. Dream On
9. Milk Cow Blues
10. Toys In The Attic
11. Walking The Dog
12. Train Kept A Rolin'
13. Last Child

Ed Sullivan Studios: New York
August 11, 1990


Line up:
Steven Tyler (vocals), 
Joe Perry (guitar), 
Tom Hamilton (bass), 
Joey Kramer (drums), 
Brad Whitford (guitar)

Ed Sulliven Theater, New York
08/11/1990 (Aired 9/20/1990)

MTV viewers get the rare opportunity to see legendary hard rockers Aerosmith perform acoustically on this special edition of "MTV Unplugged."
An excerpt from the MTV Unplugged book....."Despite the family entertainment angle, the boys were still boys. Aerosmith has never been a band to shy away from extreme, sometime slightly juvenile, sexual innuendo. But the painting of a topless woman on Joey Kramer's drum kit was a bit much for our television censors. We needed a solution and we needed it fast. Finally, in a flash of genius that was born of complete panic, we bought a set of pasties and attached them to the bass drum. Every time Joey hit his kit, the pasties would twirl. The band, of course, was more than a little pleased.
download (mp4 @167 MB):
yandex mega uloz.to cloudmailru
Last Updated (Friday, 29 September 2017 23:29)