Dave Hole – Working Overtime (1993)
Dave Hole - Working Overtime (1993)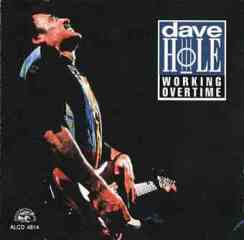 01. Nobody Hears Me Crying
02. You Got To Reap Everything You Sow
03. Stormy Seas
04. Mean Old Airplane
05. Working Overtime		play
06. Key To The Highway
07. Up All Night Thinking
08. I Can't Be Satisfied		play
09. Twenty Years
10. Crazy Kind Of Woman
11. Berwick Road

Personnel: 
Dave Hole (slide guitar, vocals), 
Bob Patient (keyboards),
John Wilson (bass), 
Rudy Miranda (drums).

Hole's second disc features nine original compositions and covers of Muddy Waters and Big Bill Broonzy, rendered in a vocal and guitar style somewhat similar to Johnny Winter's best blues work but with an edge of youthful vigor. "Biting slide guitar work" is an understatement. Hole can also play the thoughtful Roy Buchanan card on the likes of "Berwick Road." ---Roch Parisien, allmusic.com
Last Updated (Friday, 08 March 2013 20:08)