Slim Harpo – Shake Your Hips (1959-1965) [1995]
Slim Harpo – Shake Your Hips (1959-1965) [1995]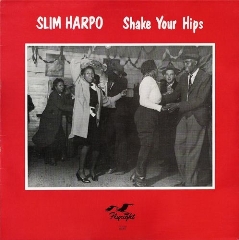 Side A
A1 – Shake Your Hips
A2 – Midnight Blues
A3 – Harpo's Blues
A4 – Buzzin'
A5 – My Little Queen Bee
A6 – I Love The Live I'm Livin'

Side B
B1 – Baby, Scratch My Back
B2 – I'm Gonna Miss You Like The Devil
B3 – Rainin' In My Heart
B4 – Wonderin' Blues
B5 – We're Two Of A Kind
B6 – I Need Money

Personnel: 
Slim Harpo (vocals, guitar, harmonica); 
Jimmy Johnson , Rudolph Richard, Gabriel Pandy Perrodin, Jr.,
 Mabon "Teenie" Hodges, James Johnson (guitar); 
Willie Parler (tenor saxophone); 
Sonny Martin (piano); 
Katie Webster, Charles Hodges (organ); 
Fats Perrodin (bass guitar); 
Clarence "Jockey" Etinne, Sammy K. Brown, Roger Hawkins, Howard Grimes (drums); 
Lazy Lester (percussion).

Slim Harpo (January 11, 1924 – January 31, 1970) was an American blues musician. He was known as a master of the blues harmonica and the name "Slim Harpo" was derived from "harp," the popular nickname for the harmonica in blues circles.
Slim Harpo is among the most accessible, beloved, and commercially successful artists in blues history. The elements of Harpo's broad appeal included a genre-spanning musical approach (one hears a blend of country, rock & roll, and raucous electric blues), infectiously hooky melodies, a distinctive singing style marked by a nasal tone and careful annunciation, and Harpo's propulsive harmonica playing. Unlike many blues artists, too, Harpo stuck to one label, the Memphis-based Excello Records, whose muscular, echo-driven production and strong promotion helped push Harpo's recordings up the charts.
download:   uploaded anonfiles mega 4shared mixturecloud yandex mediafire ziddu
Last Updated (Wednesday, 26 June 2013 19:15)