Rod Piazza & the Mighty Flyers - Live at B.B. King's Blues Club (1994)
Rod Piazza & the Mighty Flyers - Live at B.B. King's Blues Club (1994)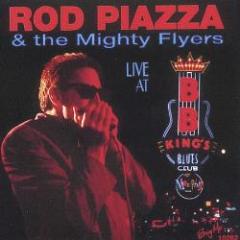 1. Sinister Woman 
  2. Love and Money 
  3. Murder in the 1st Degree 
  4. Clap Your Hands 
  5. California Fire Blues 
  6. Diamonds at Her Feet 
  7. Ju Ju Cocktail 
  8. Down So Long 
  9. The Stinger 
  10. Blue Hour 
  11. Southern Lady 
  12. They Want Money

Rod Piazza & The Mighty Flyers: 
Rod Piazza (vocals, harmonica), 
Alex Shultz (guitar), 
Honey Piazza (piano), 
Bill Stuve (bass),
Jimi Bott (drums).

Recorded live at B.B. King's Blues Club, Memphis, Tennessee on December 10-11, 1993.

You'd dig around a long time to find a better band. If there is one out there, I've never heard them. The world-famous music critic Pete Welding says, "For anyone with ears to hear, it should be readily apparent that Rod Piazza is one of the very best blues performers currently active." This writer would concur and add that as far as I know, there is not now nor has there ever been, a better harp player. ---Dave Nicks, Bluesletter, Nashville
download:   uploaded anonfiles mega 4shared mixturecloud yandex mediafire ziddu
Last Updated (Thursday, 20 June 2013 16:49)