Frank Frost – Downhome Blues – Blues Collection 52
Frank Frost – Downhome Blues – Blues Collection 52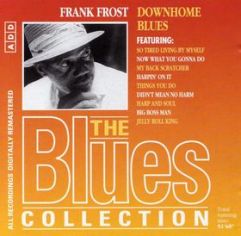 01. Frank Frost - Harp And Soul (2:53)
02. Frank Frost - Everything's Alright (2:42)
03. Frank Frost - Lucky To Be Living (3:40)
04. Frank Frost - Jelly Roll King (2:30)
05. Frank Frost - Baby You're Sp Kind (2:51)
06. Frank Frost - Big Boss Man (2:44)
07. Frank Frost - So Tired Living By Myself (3:01)
08. Frank Frost - Now What You Gonna Do (2:47)
09. Frank Frost - My Back Scratcher (2:33)
10. Frank Frost - Never Leave Me At Home (2:26)
11. Frank Frost - Harpin' On It (2:59)
12. Frank Frost - Things You Do (2:32)
13. Frank Frost - Feel Good Babe (2:29)
14. Frank Frost - Ride With Your Daddy Tonight (2:38)
15. Frank Frost - Got My Mojo Working (2:51)
16. Frank Frost - Didn't Mean No Harm (4:00)
17. Frank Frost - Five Long Years (3:36)
18. Frank Frost - Pocket Full Of Money (2:23)

Frank Frost (Born April 15, 1936 in Auvergne, Arkansas; Died October 12, 1999 (aged 63) in Helena, Arkansas) was one of the foremost Delta blues harmonica players of his generation.
Frost's first exposure to music came as a young boy when he learned to play the piano for the choir in his family's church. Frost moved to Saint Louis, Missouri when he was 15 and began his musical career as a guitarist. He toured in 1954 with drummer Sam Carr and Mr. Carr's father, Robert Nighthawk. Soon after, he spent several years touring with Sonny Boy Williamson, who helped teach him to play harmonica. After a hand injury, Frost turned his attention to the harmonica and piano.
Around 1960, Frost moved with Carr to the Mississippi Delta. After he played a show with the guitarist Big Jack Johnson, they added him to their group. Together they attracted the interest of the producer Sam Phillips, who years earlier had overseen Elvis Presley's first recording sessions. He produced Hey Boss Man for Phillips International in 1962, with blues hybrids like Frank's Jump showing off Frost's diverse, intensely melodic harmonica solos. Presley's guitarist, Scotty Moore, produced Frost's next album in Nashville, Tennessee.
In the late 1970's, Frost was re-discovered by a blues enthusiast, Michael Frank, who began releasing albums on his Earwig Music Company label by the trio, now called the Jelly Roll Kings after a song from Hey Boss Man.
Over the years, cigarettes and alcohol wore Frost down but he continued to record, tour and diversify his repertory, appearing in the films Deep Blues: A Musical Pilgrimage to the Crossroads and Crossroads. ---last.fm
download:  uploaded 4shared ziddu divshare mediafire hostuje
Last Updated (Wednesday, 20 March 2013 13:06)