Detroit Blues Masters Vol. 7 – Baby Boy Warren
Detroit Blues Masters Vol. 7 – Baby Boy Warren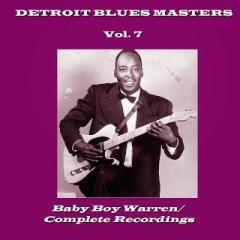 01. My special friend blues
02. Nervy woman blues
03. Lonesome cabin blues
04. Don't want no skinny woman
05. Forgive me darling
06. Please don't think I'm nosey

Robert Henry Warren (Baby Boy) – vocals, guitar
Charley Mills – piano
Milt Larkin – bass
Detroit, Mi. 1949

07. I got lucky
08. Let's renew our love
09. Taxi driver
10. Bad lover blues

Robert Henry Warren – vocals, guitar
Boogie Woogie Red – piano
Calvin Frazier – guitar
Curtis Foster – drums
Detroit, Mi. 1950

11. Sanafee
12. Not welcome anymore
13. Hello stranger
14. Bring me my machine gun
15. Chicken
16. Chuck a luck
17. Baby boy blues

Robert Henry Warren – vocals, guitar
Sonny Boy Williamson (Rice Miller) – harmonica
Washboard Willie -  washboard
Detroit, Mi. 10 january 1954

18. Mattie Mae
19. Santa Fe

Robert Henry Warren – vocals, guitar
Boogie Woogie Red – piano
Calvin Frazier – guitar
Detroit, Mi. march 1954

20. Somebody put bad luck on me
21. Stop breaking down

Robert Henry Warren – vocals, guitar
Johnny Hooks – tenor saxophone
Boogie Woogie Red – piano
Little George Jackson – guitar
Jimmy Tarrant – drums
Detroit, Mi. july 1954

22. Too many drivers
23. She's fine

Robert Henry Warren – vocals, guitar
Boogie Woogie Red – piano
+ band
Ann Arbor, Mi. 1973

Baby Boy Warren is another major name of the post-war Detroit blues scene and his recording output (between 1949 and 1954) has gained some kind of a "classical" status.
Born on August, 13th, 1919 at Lake Providence (La), Robert Henry Warren has in fact been raised in Memphis, learning the guitar with his elder brother with whom he formed a duo, Big Boy Warren and Baby Boy Warren, a nickname that would stick to him forever. During the late 1930's he plays regularly with local bluesmen Little Buddy Doyle and Willie Borum while being strongly influenced by the recordings of John Lee "Sonny Boy" Williamson. He is rumoured to have recorded two titles at that time but no evidence of this has never surfaced. In 1941, he is for a few months a featured member (alongside the other Sonny Boy (Rice Miller) and Robert Lockwood) of the popular radio programme King Biscuit Time broadcasted from Helena (Arkansas).
1942 finds him in Detroit trying to make a better living at General Motors and playing the blues in the clubs. He finally makes his first known recordings in 1949, visiting sporadically the Detroit studios for the next six years, issuing records on small local labels, some of it stirring enough interest to be also issued by labels with national distribution like Federal or Excello. Baby Boy is backed by the best Detroit bluesmen (Calvin Frazier, Boogie Woogie Red) but this is his January, 1954 session that generally is better known because he is in the company of his old mate Rice Miller who, coming from the South to Chicago, made a stopover in Detroit, living for some months at Baby Boy's place and playing with him at some Hastings Street's clubs. In fact, Chicken/ Chuck a luck is mostly a Rice Miller instrumental. The other titles are of the same high standard, particularly Sanafee and Hello Stranger/ Mattie Mae, a reworking of a John Lee Williamson's hit.
But, despite an essay to modernize his sound with the add of Johnny Hooks' saxophone on a last 1954 session, the very downhome blues of Baby Boy with a strong late 1940's flavor seems already out-fashioned and Warren won't record anymore, playing less and less outside private parties.
He was making a modest comeback in the 1970's with appearances at the 1971 Detroit blues festival, the 1973 Ann Arbor festival (where he recorded two "live" titles) and a European tour alongside Boogie Woogie Red (he may have recorded an album during this tour but nothing has been issued insofar) when he died of a massive heart attack on July, 1st 1977. --- Gérard Herzhaft, jukegh.blogspot.com
download (mp3 @ kbs):
oboom yandex 4shared mega mediafire zalivalka cloudmailru uplea