Barbara Carr - Beach Boogie Party (2018)
Barbara Carr - Beach Boogie Party (2018)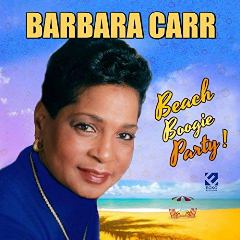 1    Footprints On The Ceiling (4:21)
2    The Man Knows How To Love (4:29)
3    Hoochie Dance (4:58)
4    Let A Real Woman Try (4:55)
5    Juke Joint Jumpin (4:31)
6    We're Gonna Boogie (4:02)
7    If You Can't Cut The Mustard (4:57)
8    Right Kind Of Love (4:28)
9    As Long As You Were Cheatin (3:34)
10    Stroke It (3:47)
11    I'm Just A Lucky Girl (4:02)
12    I've Been Partying At The Hole In The Wall (4:08)

Barbara Carr was born Barbara Crosby on January 9, 1941. She sang gospel in a family group called the Crosby Sisters while growing up in St. Louis, then began singing R&B in St. Louis-area groups (most notably saxophonist Oliver Sain's band) as Barbara Carr, adopting her husband's name.
Eventually, Carr was signed to Chess Records, where she recorded a series of singles in the sixties without much success. She continued to work with Sain's band and other St. Louis groups through the seventies, and in the eighties Carr and her husband formed their own label and produced more singles, most recorded in Muscle Shoals, Alabama.
The years of material became the basis of Carr's first LP's, issued on Barr-Carr and other small labels from 1989 to the mid-nineties. Finally, in 1997, Barbara Carr hit the chitlin' circuit big time with Footprints On The Ceiling (Ecko). 1998's Bone Me Like You Own Me solidified her reputation as one of the premier blues belters in Southern Soul. More CD's and two Ecko compilations have appeared with admirable regularity since.
In the new millennium Carr has continued to refine and broaden her oeuvre, releasing a steady stream of new material, most notably: "I've Got A Love Jones (For You Baby)," "Make Me Feel It Like You Feel It Too," and "Hootchie Dance." Carr moved from Ecko Records to Mardi Gras Records for her 2003 release, Talk To Me. ---southernsoulrnb.com
download (mp3 @320 kbs):