Motor City Josh - Blue Collar Bluesman (2005)
Motor City Josh - Blue Collar Bluesman (2005)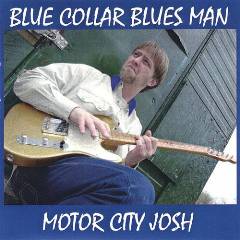 1. Tim's Blues		0:43 	
2. I'm Going Away		4:03 	
3. I Was Born To Play The Blues		5:54 	
4. Detroit Michigan		4:28 	
5. Detroit Lady		3:36 
6. Funky Man Of The Blues	3:08 	
7. Sit Back And Let The World Go By		4:09 	
8. Born In The Dog House	5:23 	
9. I'm Down For That	3:44 	
10. I Can't Win For Losin'		2:32 	
11. I Paid The Doctor	4:23 	
12. Blue Collar Bluesman	3:58 	
13. I was Born To Play The Blues (Radio Edit)	4:23 	
14. Blue Collar Bluesman (Radio Edit)	3:10

Motor City Josh has a mission to bring the "Funky Blues You Can't Refuse!" to everyone: young, old, black, white, rich or poor all over the planet. If there are 50 people or 5000 you will get a great show with loads of entertainment.
No one has more fun on stage than Josh and it is very contagious to the crowd. We have made people p*** themselves because they don't wanna go to the bathroom in fear of missing something. When you come to a show you will laugh, dance, drink lots, talk loud and have a funky good time!
Josh started as a full time Blues musician back in 1991 with The Curtis Sumter Project. Then went on to form Motor City Josh & The Big 3 in 1994. From 2000 to 2004 Josh was based in Atlanta and has a great following there. Detroit Michigan native Motor City Josh is currently based out of Chicago IL. Performing around 300 shows a year which include most of the United States, England and Scotland, Josh has built a substantial following everywhere he goes. If this is your first time visiting the web site or learning about the band, welcome to the rapidly growing family of 'Funky Blues You Can't Refuse! We are probably motorin' to a town near you!
"I have thousands of fans all around this land that tell me I'm great all the time/But I can't get a record deal to save my life and it kinda blows my mind" sings Motor City Josh on the Bluegrass title cut to "Blues Collar Blues Man" (***) . I'm surprised too considering the guy's definitely got the goods. The Southern Rock thunder of "I'm Goin' Away", Chris Cain-like swing/shuffles that I like to call "swuffles" ("I Can't Win For Losing"), funky fat Albert King Blues swagger of "I Paid The Doctor", "Funky Man Of The Blues" and "I'm Down With That" in addition to the lean n' muscular midetempo pounders "I Was Born To Play The Blues" & "Born In The Dog House" are all high caliber originals. Josh's guitar licks are crisp and (Albert) King-like in tone plus his voice is full of charm and range recalling Cain and Dr. John ("Sit Back And Let The World Go By", "I Paid The Doctor"). This disc is at least better than half of the stuff you'll hear any day on Alligator, Blind Pig et al. visit motorcityjosh.com and tell me I'm wrong. ~ "BluesCritic.com" ---matlachamariners.org
download (mp3 @320 kbs):
yandex mediafire uloz.to cloudmailru gett