Elmore James Jr. And The Broom Dusters Blues Band ‎– Old School Lover (2012)
Elmore James Jr. And The Broom Dusters Blues Band ‎– Old School Lover (2012)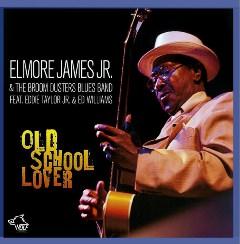 1 	What's Wrong 	
2 	Third Degree 	
3 	She Put Me To The Test 	
4 	Mr Blues Is Gone 	
5 	Studio Talk 	
6 	Greenville Smokin' 	
7 	Studio Talk 	
8 	Old School Lover 	
9 	You're The One 	
10 	No One To Love Me 	
11 	Studio Talk 	
12 	Steppin' With Elmo (Part 2) 	
13 	Out On The Road 	
14 	Studio Talk 	
15 	Goin' Home 	
16 	I Can't Hold Out

Elmore James Jr. (Earnest Johnson) - guitar, vocals
Eddie Taylor Jr. - guitar 
Carl Norington - bass
Ed Williams - saxophone

Elmore James Jr., son of the great Elmore James, is an accomplished and masterful Chicago blues singer, slide guitarist, and former rock & roll drummer. Second CD for Wolf Records, titled Old School Lover, is one of the best traditional Chicago blues albums of 2012. Includes six new songs and six traditional tunes in the Chicago blues style. Features Eddie Taylor Jr., Ed Williams, and Illinois Slim. ---Editorial Reviews, amazon.com
Elmore James Jr. is one of the last old-school blues slide guitar players in Chicago. His father Elmore James created the electric slide guitar style by putting a pick-up on his acoustic guitar; his first recording was an electrified band version of Robert Johnson's "Dust My Broom".
'Old School Lover' follows Elmore Jr's previous album, "Baby Please Set A Date" (Wolf 120822), and presents 12 tracks of top-notch electric blues - 8 written by producer Earnest Johnson, + Eddie Boyd's 'Third Degree' & Elmore senior's classic 'I Can't Hold Out'.
After Elmore senior died in 1963, others continued to play slide guitar in the classic Chicago blues style : Muddy Waters, Hound Dog Taylor, J.B. Hutto, Honeyboy Edwards, John Primer, John Littlejohn, Eddie Taylor (sen. & jr.) - & indeed, Elmore James Jr.
But no other Chicago blues band can play Elmore senior's famous original blues style quite the way Elmore James Jr. & His Broom Dusters can. ---discovery-records.com
download (mp3 @320 kbs):
yandex mediafire ulozto gett bayfiles