Johnny Ace – Memorial Album (1955)
Johnny Ace – Memorial Album (1955)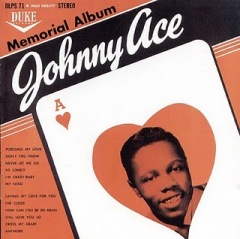 1  Pledging My Love 
2  Don't You Know 		
3  Never Let You Go 		
4  So Lonely 		                play
5  I'm Crazy Baby 		
6  My Song 		
7  Saving My Love For You 		
8  The Clock 		
9  How Can You Be So Mean 		
10 Still Love You So 		
11 Cross My Heart 		
12 Anymore 	
13 No Money
14 Ace's Wild
15 Follow The Rule
16 Yes Baby (w. Big Mama Thornton)  play
17 Angel
18 Burley Cutie
19 Please Forgive Me
20 You Been Gone Too Long

Johnny Ace – vocal
Backing Bands - Johnny Otis' Orchestra; 
Johnny Board & Orch.;
The Beale Streeters.

In the weeks and months following Johnny Ace's [aka John Marshall Alexander Jr.] tragic passing on Christmas Eve 1954, demand for his songs was at an all-time high. The resulting "Memorial Album" (1955) gathered a baker's dozen of Ace's most memorable selections, documented between the spring of 1952 and the summer of 1954. There are no unissued numbers on the disc, as each of the tracks had previously surfaced on a variety of 78s. However concurrent audiences no doubt saw this as an opportunity to obtain any of the platters they may have previously missed. Moreover, the exclusion of the prominent Top Ten R&B singles "Cross My Heart" and "Saving My Love for You" suggests "Memorial Album" was not conceived as a sort of comprehensive anthology. Ace (piano) originally formed his Beal Streeters along with fellow ex-B.B. King sidemen Earl Forest (drums) and Adolph "Billy" Duncan (sax).
download (mp3 @192 kbs):
yandex mediafire ulozto global-files
Last Updated (Sunday, 14 March 2021 20:27)