Jimi 'Prime Time' Smith - Back On Track (2006)
Jimi 'Prime Time' Smith - Back On Track (2006)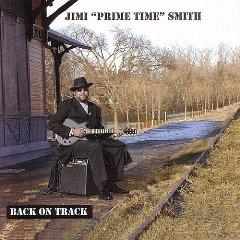 1. Blinded
2. Whole Lot Of Power
3. South Bound
4. Travel'in Shoes
5. Gotta Go
6. Play'n Games
7. Love, No Sale
8. These Blues
9. Prisoner
10. Windy City
11. Can I Change My Mind
12. Devil's Shoestrings

Jimi Smith (vocals, guitars)
Johnnie Mae Dunson (vocals)
Scott Miller (Hammond b-3 organ)
John Wright (electric bass)
Allen "The Captain" Kirk (drums)

Jimi "Prime Time" Smith was born in Chicago in 1959. Jimi's music talents seemed to come naturally, considering he grew up in a musical family. Jimi began playing guitar at age 12 under the teachings of Jimmy Reed, Hubert Sumlin and Eddie Taylor. When Jimi was just 14, he played his very first major show at the Ann Arbor Blues Festival in 1973 playing in a slot between Charles Mingus and Ray Charles.
At the ages of 17 and 18, Jimi began playing around the blues clubs of Chicago. Jimi played with the likes of Big Walter Horton, Floyd Jones, Playboy Vinson, Sunnyland slim, Jimmie Johnson, Queen Ida, Playboy Benson, Etta James and many more Chicagoland blues legends. In 1979, at the age of 20, Jimi "Prime Time" Smith made the decision to relocate to the Twin Cities and began to really leave his footprint on the blues scene and quickly became known as one of the best and finest blues guitarists.
From 1985 until 1989, Jimi formed the new band 'R-Section' with drummer Danny 'Hye Pockets' Robertson (formerly of the Luther Allison band) and while touring Germany recorded their first and only album, 'Not For Sale'.
Jimi reunited with his old friend Michael DuBois who was playing at Blues Alley in Minneapolis where he joined the band 'True Blue'. A well known house band for the club, True Blue reconfigured and formed a new group with Paul Mayasich called 'The Rhythm Doctors'. Where they recorded their first recording for Cold Wind Records called 'Malpractice'.
Jimi continued to play at the Blues Alley until it closed in 2001, and then Jimi continued playing throughout the Twin Cities and Chicago with his mother Johnnie Mae Dunson and his new band "The Chicago Flavor' with drummer Allen Kirk, guitarist John McGhee, bass John Lindberg. They expanded their touring to include Michigan, Florida, New York and Chicago. Jimi and Johnnie Mae Dunson also had the pleasure of playing with Paul Shaffer, Buddy Miles, Vernon Reed, and Elvis Costello at 'The Apollo Theater' in Harlem, New York for 'A Great Night in Harlem' benefit sponsored by the 'Jazz Foundation of America'. Jimi was again sought after to back up notable star talents, Dr John, Devel Crawford and others.
Jimi's mother, Johnnie Mae Dunson Smith, aka; The Big Boss Lady, passed away in 2007. Jimi has continued to make her proud by teaching and performing the blues. --- jimiprimetimesmith.wordpress.com
download (mp3 @320 kbs):
yandex mediafire ulozto solidfiles global-files
Last Updated (Monday, 01 March 2021 12:17)