Junior Kimbrough - Do The Rump! (1988)
Junior Kimbrough - Do The Rump! (1988)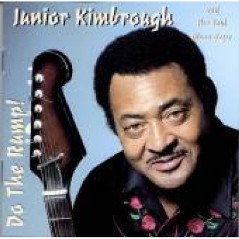 1.	Keep Your Hands off Her
2.	I Feel Good, Little Girl
3.	You Better Run
4.	I'm So Glad (Trouble Don't Last Always)
5.	Done Got Old
6.	Please Don't Leave Me, Baby
7.	Come on and Go With Me
8.	Do the Rump!
9.	I Want to Know What's Wrong With You
10.	Nobody But You Baby
11.	Too Late Baby
12.	My Mama Done Told Me
13.	Walk With Me

Personnel: 
Junior Kimbrough (vocals, guitar); 
George Scales (bass, tracks 1-2);
Earl 'Little Joe' Ayers  (bass, tracks 3-13);
Calvin Jackson (drums, tracks 1-2);
Allabu Juju (drums, tracks 3-13).

Kimbrough is tremendous pioneer in the North Mississippi sound and also a veteran bluesman up until his death in the late 90's. Do The Rump is a great record that captures the raw and drone feel of his music. This album is addictive (You listen to it once and you will be humming the songs), all the cuts are purely original (Most were written by Junior). They are I believe a shift to a more primal feel to the blues, one which hasn't been around for quite a long time. This record is a milestone in blues music, and deserves to be in your CD collection........BUY IT! ---amazon.com
download:   uploaded anonfiles 4shared ziddu sugarsync hostuje mediafire gett
Last Updated (Monday, 29 April 2013 13:58)