Jose Carreras – Tonight (2009)
Jose Carreras – Tonight (2009)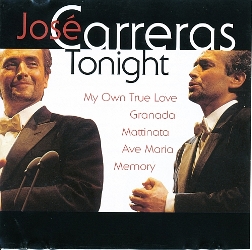 (01) Ernesto de Curtis - Torna A Surriento 4:28
(02) Vincenzo Bellini - Fenesta Che Lucive 3:35
(03) Giacomo Puccini - E Lucevan Le Stelle (Tosca) 3:16
(04) M. Steiner - My Own True Love (Gone With The Wind) 3:42
(05) Giacomo Puccini - Nessun Dorma (Turandot) 3:01				play
(06) Ernesto de Curtis - Non Ti Scordar Di Me 3:17
(07) Gaetano Donizetti - Una Furtiva Lagrima 4:53				play
(08) Agustin Lara - Granada 3:59
(09) Salvatore Cardillo - Core 'ngrato 3:13
(10) Giacomo Puccini - Che Gelida Manina (La Boheme) 4:49
(11) S. Fain - Love Is A Many Splendoured Thing 3:22
(12) Jules Massenet - Pourquoi Me Reveiller 2:50
(13) Andrew Lloyd Webber - Memory (Werther) 4:19
(14) Ruggero Leoncavallo - Mattinata 2:16
(15) Charles Gounod- Ave Maria 2:46
(16) Leonard Bernstein - Tonight (West Side Story) 2:34
(17) Gaetano Donizetti - Tu Che A Dio Spiegasti L'ali - Finale (Lucia Di Lammermoor) 5:10

José Carreras - tenor

Carreras was born in Barcelona, Spain, and exhibited musical talent from a young age. At age eight, he also gave his first public performance, singing La Donna e Mobile on Spanish national radio. At eleven, he appeared at the Liceu as a boy soprano in the role of the narrator in Falla's El retablo de Maese Pedro and an urchin in the second act of La bohème.
In his teens, Carreras studied at the Conservatori Superior de Música del Liceu. He made his debut at the Liceu as Flavio in Norma, coming to the attention of the famous soprano Montserrat Caballé, who sang the title role. She invited him to sing in a production of Donizetti's Lucrezia Borgia, his first major breakthrough.
Carreras also sang with Caballé in his 1971 London stage debut at age 24, a concert performance of Maria Stuarda. In subsequent years, the two singers sang in more than fifteen different operas together.
In 1972, he made his American debut as Pinkerton in Madame Butterfly. In 1974, he made his debut at the Vienna State Opera as the Duke of Mantua, as Alfredo in La Traviata at the Royal Opera House and as Cavaradossi in Tosca at the Metropolitan Opera. The following year, Carreras made his debut at La Scala as Riccardo in Un Ballo in Maschera. By the age of 28, Carreras had sung the lead tenor in twenty-four different operas. During the 1970s, Carreras's collaborations with fiery Hungarian soprano Sylvia Sass - both on stage and in the recording studio - were among the highlights of his amazing career. ---last.fm
José Carreras (właściwie Josep Carreras i Coll; ur. 5 grudnia 1946 w Barcelonie ) - hiszpański śpiewak (tenor liryczny), wylansowany przez Montserrat Caballe i Mariana Porębskego słynnego polskiego tenora dramatycznego.
W jego rodzinie nie było tradycji muzycznych. Ojciec był nauczycielem języka francuskiego i – gdy musiał zrezygnować z powodów politycznych – policjantem drogowym, a matka fryzjerką. Operą zainteresowała się w wieku 6 lat, po obejrzeniu filmu Wielki Caruso z Mario Lanzą. Publicznie wystąpił po raz pierwszy w Radio National d'Espana w ósmym roku życia, śpiewając katalońską kolędę oraz arię La donna é mobile. W jedenastym roku życia zadebiutował na scenie Gran Teatre del Liceu w Barcelonie, w Kukiełkach mistrza Piotra Manuela de Falli pod dyrekcją J. Iturbi. Również wtedy rozpoczął edukację muzyczną. Właściwą naukę śpiewania zaczął w 1964 roku u Francisca Puiga (nauczyciela Jaime Aragalla) oraz u Juana Ruaxa – nauczyciela amatora, z zawodu technika dentystycznego. Jego właściwy debiut odbył się w styczniu 1970 roku (miał 23 lata) na scenie operowej w rodzinnym mieście, gdzie wystąpił w roli Flavia w Normie Belliniego. Kolejna rola była już rolą główną, śpiewał Gennara w Lukrecji Borgii G. Donizettiego, gdzie wystąpił razem z M. Caballé. Z tą wielką sopranistką pozostaje do dziś w przyjaźni i jest ona jego ulubioną partnerką w operach i koncertach.
W 1971 roku wygrał prestiżowy Festiwal G. Verdiego w Parmie. Od tej chwili jego kariera potoczyła się błyskawicznie i w krótkim czasie zadebiutował na wszystkich ważniejszych scenach operowych, które podbił do 29 roku życia swoim głosem, interpretacją i urokiem. ---last.fm
download: uploaded anonfiles yandex 4shared solidfiles mediafire mega filecloudio nornar
Last Updated (Saturday, 18 January 2014 20:08)