Howlin' Wolf - Sings The Blues (1962)
Howlin' Wolf - Sings The Blues (1962)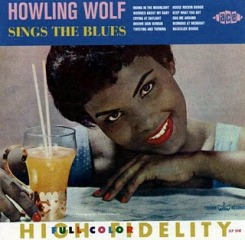 1. Riding In The Moonlight 
2. Worried About My Baby 
3. Crying At Daybreak 
4. Brownskin Woman 
5. Twisting And Turning 
6. House Rockin' Boogie 		play
7. Keep What You Got 
8. Dog Me Around 
9. Morning At Midnite 
10.Backslide Boogie 
11. Riding In The Moonligh (Demo)
12. Driving This Highway 
13. I'm The Wolf 			play
14. My Friends 
15. The Sun Is Rising 
16. Chocolate Drop 
17. Passing By Blues 
18. My Baby Stole Off 
19. I Want Your Picture 
20. Riding The Moonligh (Demo 2) 

Personnel:
Howlin Wolf (guitar, vocals);
Willie Johnson (guitar); 
Ike Turner (piano); 
Willie Steel (drums).

The U.K.'s Ace label pulls together 20 tracks on this all-killer-no-filler comp. There is a nice range of material from Howlin' Wolf's Memphis era. Tracks on Sings the Blues include "Ridin' in the Moonlight," "Do Me Around," "I'm the Wolf," and "Backslide Boogie," to name a few. This was an innovative and rough-and-tumble era for Wolf and his band, and the music here makes it come to life; it is proof-positive of Wolf's enduring stature as a blues icon. --- Thom Jurek
For most of his career the Howling Wolf's recordings appeared on the Chess label. His first recordings were made by Sam Phillips at the Memphis Recording Service (later to be called Sun Studios), who had not yet started Sun Records but recorded for other labels such as Chess and Modern. These two rival labels were in fierce dispute at the time, with each other and with Sam Phillips, as detailed in the booklet of this CD, and the Wolf was caught up in the crossfire. By the time Ridin' In The Moonlight/Morning At Midnight had appeared on the Bihari Brothers' RPM subsidiary of Modern Records in September 1951, Chess had released a rival single featuring Sam Phillips' re-recorded version of the Modern flipside and announced that Leonard Chess had secured Wolf, now hot property, on an exclusive Chess contract. Two more singles appeared on RPM, both overseen by the Bihari Brothers - Crying At Daybreak (an early version of Smokestack Lightning)/Passing By Blues and My Baby Stole Off/I Want Your Picture - before the dispute was settled in early 1952. By then, however, the Biharis had stockpiled a lot of recorded material by the Howlin' Wolf and much of this finally saw the light of day in 1962 when the long-player Howling Wolf Sings The Blues was released on the Crown label. This has long been a favourite among Wolf devotees. These tracks were previously compiled on Ace's Howling Wolf Rides Again CD, but now the original album has been re-created and in excellent remastered sound because fresh masters have been discovered in the archives. The original 10 tracks (including the two instrumentals by Joe Hill Louis which rounded out each side) are supplemented by 10 more including the single sides not included on the Crown album, and in fact comprising his entire Modern/RPM output, much of which was not released until many years later on specialist compilations. Two earlier takes of Ridin' In The Moonlight recorded by Sam Phillips probably in July 1951 are also included and there is a lengthy and detailed collection of discographical essays by noted expert Dave Sax, though it is sometimes difficult to match up the notes to the tracks on the disc where more than one version has been recorded. ---Laurence Upton
download: uploaded anonfiles yandex 4shared solidfiles mediafire mega filecloudio binge
Last Updated (Saturday, 07 December 2013 21:26)