Indianapolis Country Blues Vol. 2
Indianapolis Country Blues Vol. 2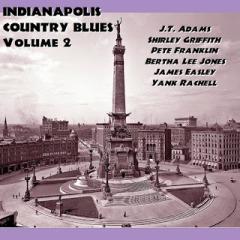 01. Kill it Kid
02. The Hop joint

J.T. Adams – vocals, guitar
Shirley Griffith -  guitar
Indianapolis, In. 1960

03. I don't feel welcome
04. Kentucky guitar blues

J.T. Adams – vocals, guitar 
Shirley Griffith - guitar 
Indianapolis, In. 1 june 1966

05. Maggie Campbell
06. Saturday blues
07. Indianapolis jump
08. Big road blues

Shirley Griffith – vocals, guitar 
J.T. Adams - guitar 
Indianapolis, In. 1960

09. Lowdown dirty ways
10. The fives
11. Penal Farm blues

Pete Franklin – vocals, guitar, piano
Indianapolis, In. 24 december 1963

12. Spanish blues

Bertha Lee Jones - guitar 
Indianapolis, In. 24 december 1963

13. Big leg woman

James Easley – vocals, harmonica
Pete Franklin - guitar 
Raymond Holloway - guitar 
Indianapolis, In. 17 june 1961

14. Mandolin Stomp

Yank Rachell – mandolin
Shirley Griffith - guitar 
Indianapolis, In. 17 june 1964

15. Tappin' that thing
16. Pack my clothes and go
17. Skinny woman blues
18. Matchbox blues
19. Texas Tony
20. Des Moines, Iowa
21. Shotgun blues
22. Sugar Farm blues
23. Diving duck blues
24. Wadie Green
25. Peachtree blues

Yank Rachell – vocals, guitar, mandolin
Mike Stewart -  guitar
Indianapolis, In. 1972

In this second volume dedicated to the Indianapolis Country blues, there are four more excellent titles (not in any LP under their names) by J.T. Adams and Shirley Griffith (1908-74), a welcome add to their legacy.
Pete Franklin (Edward Lamonte Franklin) (1928-75) was born in Indianapolis and knew quite well Scrapper Blackwell, learning to play guitar and piano. In the 40's, Pete went to Chicago to try his luck, recorded four titles for Victor in 1949, played also in the studio behind Jazz Gillum, Saint Louis Jimmy, John Brim or Sunnlyand Slim. But tired of the hectic Chicago life, he went back to Indianapolis where he played the blues only for house parties and friends. "Discovered" by Art Rosenbaum, he waxed a good Bluesville LP and three more titles. Those three are featured here.
Bertha Lee Jones and James Easley are also part time blues musicians that gravitated around Blackwell et al.
James Yank Rachell (1910-97) is certainly not a representative of the "Indiana Country blues" style, becoming just a resident of this town during the war years. Yank is mostly well known for being a major force behind the Brownsville blues of his friend Sleepy John Estes with whom he played and recorded extensively. He is also renowned as one of the few blues mandolin players. But Yank has also been an important figure of the then emerging Chicago blues bands. The records he made in 1941 with John Lee "Sonny Boy" Williamson with intertwining guitar and harmonica, a strong rhythm anticipate what Muddy and Little Walter will do later on. Some of his compositions like Ludella, Hobo blues or Army man blues will become classics after the war when recorded by others like Jimmy Rogers or John Lee Hooker. But his sessions featured here are much more in the Brownville blues of his youth and are full of deep blues feeling. ---Gérard Herzhaft
download (mp3 @320 kbs):
uploaded yandex 4shared mega mediafire solidfiles zalivalka cloudmailru oboom