B.B. King – A Christmas Celebration Of Hope (2001)
B.B. King – A Christmas Celebration Of Hope (2001)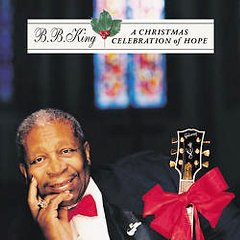 1. Please Come Home for Christmas (Brown/Redd) 
2. Lonesome Christmas (Glenn)               play
3. Back Door Santa (Carter/Daniel)          play
4. Christmas in Heaven (Ward) 
5. I'll Be Home for Christmas (Gannon/Ram/Kent) 
6. To Someone That I Love (Brown) 
7. Christmas Celebration (King) 
8. Merry Christmas Baby (Cavanaugh/Smalley) 
9. Christmas Love (King) 
10. Blue Decorations (Gillespie) 
11. Christmas Comes But Once a Year (Milburn/Shubert) 
12. Bringing in a Brand New Year (Brown) 
13. Auld Lang Syne (Arranged by King)

Personnel: 
B.B. King (vocals, arranger, guitar); 
Leon Warren (guitar); 
Melvin Jackson (saxophone); 
Stanley Abernathy, James Bolden (trumpet); 
James Sells Toney (keyboards); 
Michael Doster (bass); 
Calep Emphrey Jr. (drums).

It took B.B. King a long time to get around to his first Christmas album, which didn't appear until about half a century into his recording career. It's an adequate, good-humored reprisal of various holiday chestnuts, among them some material with blues/R&B origins, like "Merry Christmas Baby." King wrote just one new song for the album, the instrumental "Christmas Love," though he did originally record another of the tracks, "Christmas Celebration," back in 1960. Wisely he plays "Auld Lang Syne" as a funky instrumental instead of vocalizing the singalong lyrics. In addition to periodic bursts of King's trademark guitar, there is plenty of brass and organ in the peppy arrangements. The Nashville String Machine adds its strings to just three tracks, which cuts down on over-produced excess (which is only a problem on "Please Come Home for Christmas"). It's hardly the first King you'll pull off your shelf, and not the first R&B Christmas album you'll turn to either, but you could do worse in the holiday season. --- Richie Unterberger, Rovi
download:  uploaded yandex 4shared ziddu
Last Updated (Tuesday, 13 November 2012 13:52)