The State Folk Song And Dance Company Śląsk ‎– Polish Folk Music (1990)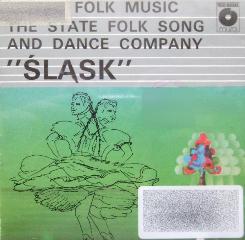 1 	The Song About The Vistula 	2:20
2 	One More Mazur 	2:05
3 	A Young Girl Was Walking 	1:50
4 	Kiss Me 	1:10
5 	There Was An Old Woman 	3:35
6 	She Herded Her Oxen 	3:15
7 	Sleep, Do Sleep 	5:05
8 	Carl 	1:00
9 	From Siewierz 	2:30
10 	The Strap-Maker 	3:10
11 	The Old Miner 	5:35
12 	The Young Girls And The Match-Maker 	4:05
13 	The Little Bench 	3:20
14 	Don't Go To Town 	2:30
15 	A Woman Was Baking Bread 	1:05
16 	Song Of Highlands Robber 	4:00
17 	Halloing 	3:50
18 	Caroline 	2:40
19 	A Silesian Dance 	4:30
20 	Why Don't You Plough Johnny? 	2:45
21 	If I Had Wings 	3:30
22 	Under My Window 	4:15
23 	The Woodcutter's Song 	3:20

The State Folk Song And Dance Company Śląsk
Art Direction – Stanisław Hadyna 

Śląsk Song and Dance Ensemble (full name: Polish National Song and Dance Ensemble "Śląsk" in memory of Stanisław Hadyna, in Polish: Zespół Pieśni i Tańca "Śląsk" im. Stanisława Hadyny) is one of the largest Polish folk ensembles. It was founded on July 1, 1953 by Stanisław Hadyna and is named after the Silesia ("Śląsk") region. It is based in Koszęcin.
Śląsk originally focused on the folk traditions of Upper Silesia, Cieszyn Silesia, and the Beskids. It was later expanded to include all Polish regions. The ensemble has performed more than 6,000 shows for over 20 million people worldwide. It has performed in the United States, Canada, Australia, France, Germany, Italy, Belgium, Sweden, the Netherlands, China, Mexico, and many other countries, as well as the Vatican.
The Śląsk ensemble has worked with such notable Polish composers as Wojciech Kilar.
Some of its most notable songs are Szła dzieweczka, Helokanie, Ondraszek, Głęboka studzienka, Karolinka. ---slavorum.org
download (mp3 @320 kbs):
yandex mediafire ulozto gett bayfiles