Thomas Adès - The Tempest (2009)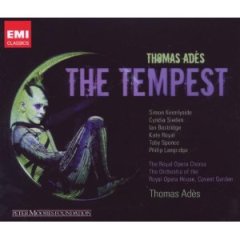 Disc 1
1. The Tempest, Act 1: Scene I: Hell Is Empty
2. The Tempest, Act 1, Scene II: Oh Father
3. The Tempest, Act 1, Scene II: Miranda - You Are My Care
4. The Tempest, Act 1, Scene II: What You Have Told Me
5. The Tempest, Act 1: Scene III: Fear. Fear To The Sinner
6. The Tempest, Act 1: Scene IV: Sorcerer Die
7. The Tempest, Act 1, Scene V: Sir? Have You Recovered Them?
8. The Tempest, Act 1, Scene V: Five Fathoms Deep
9. The Tempest, Act 1: Scene VI: As i Sat Weeping
10. The Tempest, Act 2, Scene I: Alive, Awake
11. The Tempest, Act 2, Scene I: I Had The Notion I Flew
12. The Tempest, Act 2, Scene II: A Monster!			play
13. The Tempest, Act 2, Scene II: Friends Don't Fear…
14. The Tempest, Act 2, Scene II: We'll Find The Prince
15. The Tempest, Act 2: Scene III: They Won't Find Him
16. The Tempest, Act 2: Scene IV: What Was Before

Disc 2
1. The Tempest, Act 3, Scene I: (Orchestral)
2. The Tempest, Act 3, Scene I: This Way
3. The Tempest, Act 3, Scene II: Spirit Must I Right
4. The Tempest, Act 3, Scene II: Fool. You've Tired Us Out
5. The Tempest, Act 3, Scene II: Murder!
6. The Tempest, Act 3, Scene II: Help Us!
7. The Tempest, Act 3, Scene III: Father
8. The Tempest, Act 3, Scene III: Murder This Man		play
9. The Tempest, Act 3, Scene IV: Quietness
10. The Tempest, Act 3, Scene IV: How Good They Are
11. The Tempest, Act 3, Scene IV: How Things
12. The Tempest, Act 3: Scene V: Who Was Here

Kate Royal, Ian Bostridge, Simon Keenlyside, Toby Spence, Philip Langride
Royal Opera House Orchestra & Chorus
Thomas Adès - conductor	

Ades has composed some truly wonderful music, and while there are certainly beautiful solos for all of the cast members, it is in the ensembles that his true gift shows. The writing proved both passionate and compassionate, though I feared for Miss Seiden in her exposed relentlessly high tessitura a couple of times, but she was magnificent. The final scene had me smiling through tears - which is how I like my operas to end!
Ades score could not possibly more different - in every regard - from his breakthrough opera, "Powder Her Face" (which I love for entirely other reasons). I heard strong influences of Birtwistle (especially in the brass writing - some wonderful special note sliding effects that in and of itself adds an almost Shakespearean sound quality difficult to describe in words (but I know it when I hear it!).
I find just a bit of amusement in that while Ades is composing music of such lyrical beauty not too many decades ago, composers like Gian Carlo Menotti were berated and raked over the coals for producing scores that didn't sound "modern enough." Things do go in cycles, don't they.
During the world premiere of the work an intermission feature (which I wish were present in this recording as an "extra") I had to laugh as various members of the production team mentioned how there were no modern operatic versions of "The Tempest." "Well, Germany produced a number of attempts . . . Mozart was interested in the libretto, but never lived long enough to be able to set it." Etc., etc. I guess being on the other side of the pond, the English can be forgiven for not being aware of Lee Hoiby's glorious treatment of "The Tempest" which is enjoying a new lease on life and has recently been revived, and available in recording as well.
Mr. Ades was lucky in his cast - every role seemingly written for whomever went on to sing it. This is true nowhere more than in Simon Keenlyside's powerful turn as Prospero; it is an absolutely stunning performance. Ian Bostridge, a singer I never fully warmed up to in the past, was heartbreakingly and entirely believable as Caliban. A wonderful effort and successful effort by all accounts and very highly recommended. ---G.P. Padillo
The Royal Opera, Covent Garden, commissioned Thomas Adès to compose a new opera in the late 1990s, following the success of Powder Her Face. The opera became a co-production with the Copenhagen Opera House and Opéra National du Rhin in Strasbourg. The Tempest received its world premiere at the Royal Opera House in February 2004. Productions in Strasbourg and Copenhagen followed in 2005 and the work was performed at Santa Fe Opera in the summer of 2006.
The libretto by Meredith Oakes is based on Shakespeare's play of the same name. Rather than transfer Shakespeare's words directly, Oakes has reduced much of the text to its essence, and produced a compact libretto with the bulk of the text presented in the form of rhyming couplets. In the words of Alex Ross, "Adès wisely assigned the libretto to Meredith Oakes, a seasoned playwright who had the guts to rewrite Shakespeare … Veterans of contemporary premières will be relieved to find that for once a librettist and a composer have taken charge of a sacred text and made it their own. This libretto is designed to be sung."
download (mp3 @192 kbs):
uploaded yandex 4shared mediafire mega solidfiles cloudmailru filecloudio oboom