Jasper Van't Hof - Blue Corner (1996)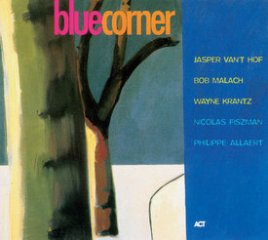 1 Blue Balls ( Krantz, Wayne / Malach, Bob / Fizman, N. / Allaert, P.) 05:46
2 Blauklang (for Ernst W. Nay) ( van't Hof, Jasper) 04:57
3 "U" (for Francis Picabia) ( van't Hof, Jasper) 03:26
4 Before Birth (for Joseph Beuys) ( van't Hof, Jasper) 05:00
5 Blue Corner (for Bettina Blohm) ( van't Hof, Jasper) 04:08
6 Two Brothers (for Gilbert + George) ( traditional) 03:28
7 Gog (for Emil Schumacher) ( van't Hof, Jasper) 04:46
8 L'Epoque Bleue (for Yves Klein) ( van't Hof, Jasper) 03:13
9 Another Night in Tunesia (for George Baselitz) ( van't Hof, Jasper) 03:51
10 Icarus (for Henry Matisse) ( van't Hof, Jasper) 02:59
11 Fate (Subo) (for Konrad Klapheck) ( Krantz, Wayne) 02:54
12 Black Is The Color Of My True Love's Hair ( van't Hof, Jasper)

Jasper van't Hof – piano & keyboards
Bob Malach – tenor saxophone
Wayne Krantz – guitar
Nicolas Fiszman – bass
Philipp Allaert – drums

BLUE - it's more than the colour. It's music too.
Goethe in his "Farbenlehre" associated blue with infinity and saw it as the colour of transcendence. Jung associated blue with the vertical, the blue sky above and the blue ocean below, and sees a correspondence with the unconscious. Yves Klein postulated Monochrome IKB (International Klein Blue) as the colour of the universe and hoped to use it to sensitize die whole planet. At about the same time, Yuri Gagarin, the first cosmonaut, looked at us from outer space and reported : "The Earth is blue."
BLUE is also a group of musicians that enjoy the hell of making music together. Five guys on a mission to catch blue. JASPER VAN'T HOF from Enschede in Holland has become a most accomplished performer on acoustic piano and synthesizer. He is a member of the European elite of keyboard artists. He is also known to a larger audience by his work with Pili-Pili.
BOB MALACH comes from Philadelphia, where he got early experience working with Lou Rawis, Patti LaBelle and the Stylistics, among others. Bob moved to New York in 1976. He joined Stevie Wonder's Band in 1980 and worked with the singer for 5 years. Since 1987 he recorded and toured with the Steve Miller Band. Today he is one of the most wanted saxophone players in the New Yorker Scene.
WAYNE KRANTZ comes from New York too. One of the new young guitar wizzards in the US. A frequent player with Carla Bley and Lennie Stern.
NICOLAS FISZMAN, the bass player, and PHILIPPE ALLAERT, the drummer are both from Belgium where they made themselves popular as the "groove brothers" in the HipHop Scene of Brussels. They also play with Victor Lazlo and Pili-Pili.
BLUE is a musical homage to 11 contemporary painters who themselves created important works of art based on the mythology of blue. YVES KLEIN, SAM FRANCIS, ERNST W. NEY, JOSEPH BEUYS, GEORG BASELITZ, GILBERT & GEORGE, HENRY MATISSE, FRANCIS PICABIA, EMIL SCHUMACHER, KONRAD KLAPHECK und BETTINA BLOHM.
BLUE is a musical experience for people who like to listen to Miles Davis and Sting but not necessarily the Beasty Boys. The recordings where made in Amsterdam and New York City. ---actmusic.com
download (mp3 @320 kbs):
yandex mediafire ulozto gett bayfiles