Rick Wakeman - In The Nick Of Time (Live 2003) [2012]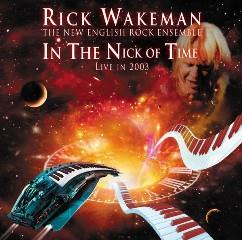 1 	Catherine Parr / Beware Your Enemies 	11:07
2 	Out There 	13:17
3 	No Earthly Connection 	8:06
4 	Dance Of A Thousand Lights 	5:48
5 	The Cathedral In The Sky 	10:36
6 	White Rock 	3:15
7 	Wurm 	9:29

Bass – Lee Pomeroy
Drums – Tony Fernandez
Guitar – Ant Glynne
Keyboards – Erik Jordan
Keyboards, Synthesizer – Rick Wakeman
Vocals – Ashley Holt

RICK WAKEMAN is a complex guy, not only musically. I took a fair amount of time to get his music but today I can say he's one of my favorites in the Prog scene. Many think that he started his career with YES, which isn't true, he had recorded with many peopl as a studio musician and it includes the STRAWBS.
RICK WAKEMAN's career is full of downs and lows. During 73 to 76 Rick was on rise, his records sold millions: The Six Wives Of Henry VIII (1973), Journey To The Center Of The Earth (1974), The Myths And Legends Of King Arthur And The Knights Of Round Table (1975) & No Earthly Connection (1976). With the changes in Prog things weren't different to the keyboard wizard. His records would not reach the same quality for 2 decades.
This CD, In The Nick Of Time (2012), was recorded in the tour of his album Out There (2003). This was a record that brought him to his good old Prog. After a couple of years doing only piano concerts he decided that was time to get his band back together and go full on stage and recordings. So he brought The English Rock Ensemble back (adding a New to the name) and made a conceptual record about the possible life that exists beyond Earth. Outter space. The musicians were his long partners Tony Fernandez (drums) and Ashley Holt (vocals) and the new mates were Ant Glynne (guitars) and Lee Pomeroy (bass). In The Nick Of Time (2012) was released in March via Gonzo Multimidia and I have to say that this is a great live album and I don't even like live recordings.
It's a great set list that covers a little of both worlds, Rick's classics and new material. Including songs from The Six Wives Of Henry VIII ('Catherine Parr', doubled with 'Beware Your Enemies'), No Earthly Connection (which is in fact a meddle of 'Music Reincarnate ? The Spaceman' and 'Music Reincarnate ? The Realisation'), Return To The Centre Of Earth ('Dance Of A Thousand Lights') and 2 tracks from Out There ('Out There' & 'The Cathedral In The Sky'). To complete the set, a weird choice, 'Würm', a section of 'Starship Trooper', a YES classic. Weird because this is a guitar song, and here the whole band shines.
And all of the great music comes with a 20 page booklet, 6 of them with a great article wrote by Rick himself and lots of pictures. This is a great show that should be heard asap. ---ProgShine, progarchives.com
download (mp3 @320 kbs):
yandex mediafire uloz.to cloudmailru gett