Azahar - Azahar (1979)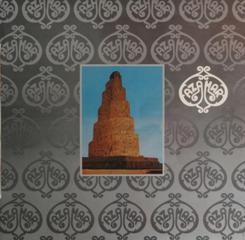 1. Expreso a Ketama (4:43)
2. La naranja y el limon (5:12)
3. Noche de primavera (3:46)
4. Zahira (3:40)
5. Bulerías de lujo (2:44)
6. El mago acidote (9:33)
7. Aire y fuego (5:08)
8. Expreso de Ketama (4:00)

- Ricardo Dick Zappala - vocals, keyboards (clavinet)
- Manolo Manrique - acoustic and electric piano, synthesizers, organ
- Antonio Valls - guitars
- Willy Trujillo - drums and percussion
+
- Julio Blasco - bass
- Enrique Carmona - bass
- Isabel y Esperanza - vocals (6)

When Azahar released Que Malo Hay, Senor Juez? as a single in 1977 it was banned in Spain because it advocated the legalisation of marijuana. A further consequence was that vocalist Ricardo 'Dick' Zappala, who was of Egyptian origin, was deported. Ironic indeed, given the band's concern with ideas of freedom. However with the help of guitarist Antonio Valls, Zappala was later allowed to return to Spain under the condition that he did not enter the capital of Madrid. By all accounts crowds flocked to the few concerts they gave, such was their reputation following the above incident. Original members Jorge 'Flaco' Barral (bass) and Gustavo Ros (keys) subsequently left to form Azabache during 1978. Manolo Manrique replaced Ros, although Zappala himself also contributed in the keyboards department. Willy Trujillo, formerly of Gualberto, joined as drummer; Azahar's first album (Elixir) had featured some percussion but no drums. Barral wasn't replaced and a couple of guest musicians supplied the bass guitar here: Julio Blasco, who had appeared on Granada's Valle De Pas album, and Enrique Carmona. The song writing on this album is mainly shared between Zappala and Valls, with the other two band members having only one credit each. The music falls broadly within the Rock Andaluz category having something of a North African flavour, similar in some ways to Mezquita although the Azahar album preceded Mezquita's debut.
What we have here then is mainly symphonic prog with some Arabic/flamenco elements. One or two tracks have a slight disco feel due to some of the drumming, but overall this isn't an issue. The band employs a wide variety of keyboards but there's also more than enough excellent guitar work to keep axe victims happy. The tracks are an even mix of songs and instrumentals, although Bulerios De Lujo is basically just a drum solo. All are of a consistently high standard but three are worthy of special note. The flamenco influence really shines on Zahira. It begins with Spanish guitar and is then joined by synth and organ. Castanets begin clacking in the background, followed by doleful electric guitar phrases. Drums finally enter and join the now prominent castanets; this is really wonderful stuff as Spanish guitar trades with synth and Santana-influenced electric guitar. El Mago Acidote is another highlight and at over 9 minutes is arguably the most symphonic track on the album. It features some lovely keyboard parts, with bell-chime electric piano and funky clavinet featuring prominently. A very light fusion influence is evident here, slightly reminiscent of Gotic. The first half of the song has a warm and optimistic feel; the second half is slower in tempo with fervent vocals and organ contributing to a melancholic atmosphere. Aire Y Fuego has the strongest Arabic flavour on the album thanks to its harmonic minor scale and wailing vocals. Zappala's singing is especially noteworthy here as this is a notoriously difficult scale for vocalists. The song also features superb organ, by turns psychedelic and churchly.
Azahar was one of many fine bands from Spain during the latter half of the '70s and this is a very pleasant album that takes melodic symphonic prog and imbues it with traditional elements, full of typical Spanish exuberance. --- seventhsojourn, progarchives.com
Segundo album de este grupo afincado en Madrid, atipico por su originalidad y frescura en la composicion. Despues de un variopinto album como fue "Elixir", en 1979 editarian su segundo album, esta vez de un claro corte de rock sinfonico andaluz y no es mas que debido a la incorporacion al grupo del bateria (recordar que en el primer album se lo hicieron sin bateria) llamado Willy Rodriguez de Trujillo.
Willy Rodriguez de Trujillo formo en su Sevilla natal en bandas como Fly, Blizzard o Manantial, en este ultimo coincidio con el "Manglis" y Andres Olaegui de Guadalquivir, antes de que estos dos se fueran a Madrid a meterse en derroteros de Jazz Rock Fusion. Como no, Willy tambien tuvo que emigrar a Madrid en busca de fortuna y alli se enrolo en Azahar.
La historia de este bateria acabo mal, grabo un disco de percusiones que nunca vio la luz y finalmente se ahorco subiendose a los bombos de su bateria.
El album es abierto con (1) "Expresso a Ketama" el tema mas progresivo del album con mucho sonido anglosajon de los 70's y un destacada participacion de teclado y guitarra. Le sigue (2) "La Naranja y el Limon" donde aparece el sonido clasico del rock andaluz, por emparentarlos con alguien seria a los Alameda, aunque el canto del egipcio Ricardo Dick Zappala desde luego de andaluz tiene mas bien poco. sus remedos son de risa. (3) "Noche de primavera" es un tema tambien de rock andaluz entre Triana y Alameda en plan emotivo. (4) "Zahira" es un tema instrumental de tono alegre tambien con sonoridades aflamencadas. (5) "Bulerias de lujo" es un solo de bateria de Willy Trujillo que como bien dice el titulo pretende que sea de LUJO, al final se torna algo jazzy con un colchon de teclados de fondo. derroteros de rock progresivo con buenos cambios de ritmo y un final muy intimista con un teclado adornandolo. (7) "Aire Y fuego" es un tema a lo Alameda donde predomina lo flamenco y los motivos arabes al rock progresivo y de nuevo un gran trabajo de teclados y guitarra. Acaba el album con (8) "Expresso de Ketama" con un gran solo de teclados y efectos de sonido a lo J.M. Jarre en Oxygene, finalizando con una guitarra aflamencada.
CONCLUSiON:
Este segundo album de Azahar se apunta al Boom de lo que ese anyo 1979 supondria en Espanya, el anyo donde mas discos de corte progresivo se editaron.
Para esto se contrato al recien llegado a Madrid Willy Trujillo aportando al grupo la experiencia de haber tocado en Manantial y del tecladista Manolo Manrique que suplio a la perfeccion a Gustavo Ros, el cual junto a Flaco Barral se fueron a formar Azabache.
Salu2 sinfoandaluces.---Juan, rocksinfonicoandaluz.blogspot.com
download (mp3 @320 kbs):
yandex 4shared mega mediafire uloz.to cloudmailru gett