Josephine Foster & The Victor Herrero Band - Anda Jaleo (2010)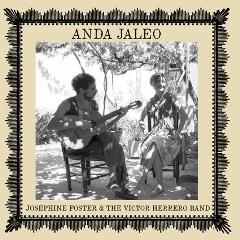 1. (02:58) Los Cuatro Muleros 
2. (05:18) Los Pelegrinitos 
3. (03:01) LaLas Morillas de Jaen 
4. (03:00) Anda Jaleo                   play
5. (02:14) Las Tres Hojas 
6. (06:49) Los Mozos de Monlean 
7. (03:17) Sevillanas del Siglo XVIII   play
8. (02:29) Los Reyes de la Baraja 
9. (02:34) El Cafe de Chinitas 
10. (04:04) Zorongo 
11. (03:46) Nana de Sewilla

Josephine Foster - Vocals [Sings], Performer [Dances], Castanets, Harp, Spoons
Victor Herrero - Guitar, Guitar [Portuguese Guitar], Vocals [Sings]
José Luis Herrero - Bass, Backing Vocals
José Luis Rico - Percussion [Rociero Drum, Rociero Cane, Anis Bottle, Palmas & Jaleos]
Joining forces with her partner, Spanish musician Voctor Herrero, alt. folk queen Josephine Foster presents a freshly arranged rendering of Federico Garcia Lorca's popular folk song collection Las Canciones Populares Espanolas. The songbook was outlawed during Franco's dictatorship but had previously been recorded in 1931 by Argentinean flamenco dancer La Argentinita. The renditions laid down here are all characterised by a live, simply mic-ed sound that calls upon a wide variety of Iberian instruments including castanets, rociero drum and Portuguese guitar. The album credits reveal that Foster really got into the swing of things, singing and dancing her way through these pieces, as would presumably have been intended in their original context within Spanish folk tradition. The performances (laid down live in Mecina Bombaron, Granada last summer) come across as very highly accomplished (at least to an outsider's ears) and Foster's unique, witchy vocal sounds just as compelling in Spanish as it does in her native tongue. ---boomkat
Anda Jaleo is a collection of songs based on the work of legendary socialist poet Federico García Lorca. A Granada born literary pioneer, it's widely believe that Lorca fell victim to the Fascists during the early stages of the Spanish Civil War. Fittingly, "anda jaleo" translates to English as, "come on, commotion!" It's a pensive, bold statement to make in the wake of the album's topic.
Foster's vocals, met by husband Herrero's frantic and raw gypsy-band orchestration, demonstrates the sense of urgency in the music's message well and carries Anda Jaleo to an elevated state. From the melancholy harmonies of opener 'Los Cuatro Muleros' and 'Zorongo' to the enthusiastic prowl of 'Las Tres Hojas', the songs embrace traditional Spanish folk music and emit an overpowering emotion. Most intriguing of all is 'Los Mozos de Monlean', where Foster lends her wisdom to spoken word. I don't have a clue what she's saying, but she's saying it extraordinarily well. Of course, if it weren't for a footnote on the inlay explaining the cultural significance of the songs, I'd be somewhat less enthusiastic about this material. The language is without a doubt a barrier, but Foster and Herrero's outstanding musical effort means that I can't bring myself to criticise Anda Jaleo for daring to embrace something beyond our fair isle.
------------------------------------------------------------------------------------------------------------------------------------------------
Mieszkająca od pewnego czasu w Hiszpanii Josephine Foster w zdumiewający i efektowny sposób przenosi twórczość Lorki w muzyczne środowisko przywodzące na myśl zarówno Paco De Lucię jak i Antony and the Johnsons. Josephine Foster jest nie tylko urzekającą piosenkopisarką i śpiewaczką (śpiewała między innymi w operze, na weselach i pogrzebach). Cechuje ją także odwaga i wszechstronność w doborze tematów i form. Wydany w zeszłym roku album "Graphic As A Star" poświęcony był twórczości Emily Dickinson, a na "A Wolf In Sheeps Clothing" z roku 2006 wykonywała XIX-wieczne niemieckie pieśni solowe autorstwa Schuberta, Schumanna i Brahmsa. Piosenki Lorki zebrane na albumie "Anda Jaleo" to kolejny koncept, do którego artystka podchodzi z wdziękiem, urokiem i humorem, zachowując jednocześnie witalność hiszpańskiej romancy, którą prawdziwy poeta nadaje swoim utworom.
Lorca to jeden z najbardziej znanych i cenionych hiszpańskich poetów i dramaturgów, blisko współpracujący z Manuelem de Fallą, Luisem Buñuelem i Salvadorem Dalí. Jego zbiór popularnych piosenek folkowych "Las Canciones Populares Espanolas" był zakazany przez dyktaturę Franco i obecnie funkcjonuje jedynie w hiszpańsiej podświadomości. Czerpiąc wskazówki z nagrań Lorki i La Agrentinity z 1931 roku, Josephine Foster i jej partner, hiszpański muzyk Victor Herrero zaaranżowali tę przesyconą poetyką kolekcję piosenek na swój nowy akustyczny zespół powstały w Grenadine Sierra. Album "Anda Jaleo" ze współczesnymi nagraniami "Las Canciones" ukaże się we wrześniu nakładem Fire Records. Sama Josephine, która podczas koncertów śpiewa, tańczy i gra na kastanietach mówi o zespole, że brzmi on jak andaluzyjski zespół więzienny, grający bardzo energetyczną i żywą muzykę.
download (mp3 @192 kbs):
yandex 4shared mega mediafire zalivalka cloudmailru oboom uplea