Krzysztof Komeda Trzcinski – Krzysztof Komeda W Polskim Radiu Vol.02: Muzyka Baletowa I Filmowa – Czesc Pierwsza (2014)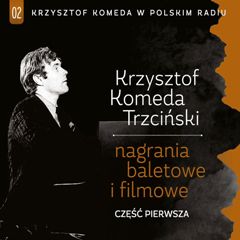 Trio Komedy 1962:
1 	1 Etiuda z baletu jazzowego 				
Grupa Komedy 1962:


2 	Etiudy – muzyka do baletu 

		
Trio Komedy z filmu "Nóż w wodzie" 1962:
3 	Ballad for Bernt 				
4 	Ballad for Bernt (with Bernt Rosengraen) 				
5 	Crazy Girl 				
6 	Crazy Girl (with Bernt Rosengraen) 				
7 	Ballada 			
Kwartet Komedy 1959:
8 	Niewinni Czarodzieje – temat z filmu 				

Krzysztof Komeda - piano
with various groups

This is the second installment in a new series of albums launched by the Polish Radio, which presents radio recordings by the Godfather of Polish Jazz, pianist/composer/bandleader Krzysztof Komeda. Komeda is of course the most familiar name associated with Polish Jazz and his legacy is of crucial importance to Polish and European Jazz. Considering the fact that Komeda's studio recordings are relatively scarce, the radio recordings are in fact the main source of his recorded legacy, as they include among others the Jazz Jamboree festival appearances by Komeda and his various ensembles over the years.
Recorded between 1959 and 1963 this volume collects only original music that Komeda composed for ballet and cinema and performed with his groups during the 1961 edition of the Jazz Jamboree festival in Warsaw (one track), the 1962 edition (four tracks) and 1963 edition (one track). The remaining two tracks are radio studio recordings. The music includes the following compositions: "Ballet Etudes", written by Komeda to be performed by a Jazz ensemble accompanying ballet dancers, which had its premiere during the 1962 Jazz Jamboree with dancers from the Warsaw Opera, theme from the film "Innocent Sorcerers" directed by Andrzej Wajda and the monumental music from the debut full length film "Knife In The Water" directed by Roman Polanski. As any Polish Jazz enthusiast knows, this is the cradle of modern Polish Jazz and includes some of its most defining moments, as well as the essence of Komeda, the composer.
The list of the musicians participating in these recordings reads like the who's who of early modern Polish Jazz: vocalist Wanda Warska, saxophonists Zbigniew Namyslowski and Michal Urbaniak, trumpeter Tomasz Stanko, bassists Roman Dylag, Adam Skorupka, Jan Byrczek and Maciej Suzin, drummers Leszek Dudziak, Czeslaw Bartkowski and Tadeusz Federowski and percussionist Jozef Gawrych. Three Swedish musicians also participate: saxophonist Bernt Rosengren, trombonist Eje Thelin and drummer Rune Carlsson.
Overall this is a collection of brilliant music, superbly performed, which is an absolute revelation to anybody who loves Jazz. It is a fundamental piece of every decent Jazz record collection. The recordings are splendidly restored and remastered and nicely packaged in an elegant digipak/slipcase. Dates, places and lineups are faithfully included and even personal liner notes by young Polish Jazz critics are present, but there is no in-depth background material about Komeda and his music, however considering the plentitude of published material and several excellent books on the subject, an intelligent listener can easily bridge the knowledge gap. The only small reservation one might have is the fact that these recordings have been already released many times, more or less legally on the somewhat untamed Polish music market, which means they is already owned by the serious Polish Jazz collectors, probably more than once. ---Adam Baruch, polish-jazz.blogspot.com
Na płycie prezentujemy zarówno nagrania studyjne Kwartetu Krzysztofa Komedy dokonane w Studiu Polskiego Radia w roku 1959 podczas przygotowywania muzyki do filmu Niewinni Czarodzieje oraz Trio Komedy wraz z Berntem Rosengrenem rejestrowane w warszawskim Studiu w roku 1961, jak i relacje z Festiwali Jazz Jamboree.
W roku 1961 na Jazz Jamboree Krzysztof Komeda wystąpił ze swoim Trio wraz z Berntem Rosengrenem. W roku 1962 Komeda wystąpił na festiwalu z dwoma formacjami: Trio z Romanem Dylągiem i Rune Carlsonemoraz, Grupą Krzysztofa Komedy prezentującą muzykę baletową kompozytora. W formacji tej wystąpili: Wanda Warska, Michał Urbaniak, Zbigniew Namysłowski, Eje Thielin, Roman Dyląg i Rune Carlson.
Natomiast w roku 1963 Komeda wystąpił na JJ63 z Kwintetem, w którym oprócz lidera wystąpili: Tomasz Stańko, Michał Urbaniak, Maciej Suzin i Czesław Bartkowski.
To wszystko znajdą Państwo na 69 minutowej płycie. ---bonito.pl
download (mp3 @320 kbs):