Nikolai Rimsky-Korsakov – Sadko (2000)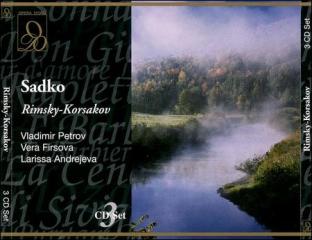 Disc 1
1	Sadko: Tableau I: Introduction "the Blue Okian Sea"
2	Sadko: Tableau I: "We Are Assembled, Merchant Traders"
3	Sadko: Tableau I: "Tune Up Your Strings"
4	Sadko: Tableau I: "'Tis a Beautiful Day In the Middle of the Day"
5	Sadko: Tableau I: "If I Had a Hoard of Gold"
6	Sadko: Tableau I: "Ho, Young Sad-Sadko, Good Fellow"
7	Sadko: Tableau I: "the Merchants Laughed At Him"
8	Sadko: Tableau Ii: "Oh, You Dark Little Grove"
9	Sadko: Tableau Ii: "Ah-Ah-Ah... Come Out of the Blue Lake"
10	Sadko: Tableau Ii: "Strike Up, My Gusli"
11	Sadko: Tableau Ii: "Your Tresses Shine With Mellifluous Dew"
12	Sadko: Tableau Ii: "the Moon, Golden-Horned, Wanes Beyond the Dark Woods"

Disc 2
1	Sadko: Tableau Iii: "All Night I Have Waited For Him In Vain"
2	Sadko: Tableau Iii: "Here He Comes, My Little Husband"
3	Sadko: Tableau Iii: "Look, Free People"
4	Sadko: Tableau Iv: "I Bow To You, Distinguished Merchants!"
5	Sadko: Tableau Iv: "On Lake Ilmen, On the Steep Bank Stands a Hut"
6	Sadko: Tableau Iv: "On the Terrible Rocks the Waves Break"
7	Sadko: Tableau Iv: "Innumberable Are the Diamonds In the Stone Caves"
8	Sadko: Tableau Iv: "City of Stone, Mother To All Cities"
9	Sadko: Tableau Iv: "Ah, Make Your Way To Glorious Venice"
10	Sadko: Tableau Iv: "the Height, 'Tis the Celestial Height"

Disc 3
1	Sadko: Tableau V: "Lo How On the Sea Thirty Ships Are Sailing"
2	Sadko: Tableau V: "Farewell, My Subordinates"
3	Sadko: Tableau V: "Is That Singing?"
4	Sadko: Tableau Vi: "Deep Depth, Okian Sea"
5	Sadko: Tableau Vi: "Terrible, Broad Blue Sea"
6	Sadko: Tableau Vi: "Well, Sadko, You Are Clever At Singing and Playing!"
7	Sadko: Tableau Vi: "Strike Up Your Ringing Gusli"
8	Sadko: Tableau Vi: "Glorious, Terrible Sea King"
9	Sadko: Tableau Vi: "Ah, You Have Not Danced In Time"
10	Sadko: Tableau Vii: "My Dearest One"
11	Sadko: Tableau Vii: "Slumber Steals Over the Bank"
12	Sadko: Tableau Vii: "Ah, I Am Miserable, So Miserable
13	Sadko: Tableau Vii: "Ah, Greetings To You"

Sadko - Vladimir Petrov
Lyubava - Larissa Avdeyeva
Nezhata - Valentina Levko
King of the Sea - Alexey Geleva
Princess Volkhova - Vera Firsova
Duda - Victor Gorbunov
Foma Nazarich - Nikolai Zakharov
Luka Zinovich - Vladimir Filippov
Viking Guest - Alexander Vedernikov
Indian Guest - Alexei Maslennikov
Venetian Merchant - Yuri Mazurok
Apparition - Vlasimir Valaitis

Bolshoi Theatre Orchestra
Evgeny Svetlanov – conductor, 1964

Sadko, Rimsky-Korsakov's operatic masterpiece, opened at the Solodonikov Theater in Moskow on December 26, 1897. It is an opera in seven tableaux or scenes. Based on Russian bilini legends written about the life of a bard and hero who lived in twelfth century Novgorod, it combines the fantastical and imaginary world of Sea Kings, nymphs, and golden fish, with the daily life of Sadko and his fellow merchants of the sea. Rimsky-Korsakov uses many Russian folk tunes throughout the opera, and in several places he uses actual bilini formulae from the ancient songs to construct the melodies of his recitatives and arias. He wrote his own libretto with the help of several other Russian writers, including Stasov, Yastrebtsev, Shtrup, Findeyzen, and Vladimir Nikolayevich Bel'sky.
The composer began writing music based on the story of Sadko in 1867, with the composition of his tone poem Episode from the legend of Sadko. It quickly became a national favorite in Russia, and much of the music of the symphonic poem was used in the score to the opera. A central theme throughout the opera is the sea. Much of the music depicts the various moods of the sea, and gives the listener pictorial images of the open water. Recurring motifs, themes, and atmospheric orchestral writing bind the opera together and conjure up romantic images.
For the first half of the opera, Rimsky-Korsakov alternates scenes placed in the real world of Novgorod with scenes at Lake Ilmen, where the Sea King and his daughters dwell. The opening music of the opera comes directly from the symphonic poem, and depicts the movements of the waves through surging and pulsating movement and disturbing and mysterious harmonies. The vastness of the sea, its remoteness, and its offer of adventure are all realized in the highly atmospheric writing of the opening. We are then introduced to a crowd of Russian merchants in one of the many exciting crowd scenes that occur throughout the opera. Sadko enters and sings his opening number, accompanying himself on his gusli, which is a Russian relative of the dulcimer or psaltery. His music portrays him as both an Orpheic bard and an ambitious hero. It is an impassioned arioso solo that is met with hostility on the part of his mates. They ridicule him after he is gone in folk song based concerted writing. They sing and dance, and merry-making closes the tableaux.
As Sadko reaches Lake Ilmen, orchestral writing again depicts the mood of the open water. It is still, calm and vast, and only as Sadko's song progresses does the sea begin to come to life. In the bottom of the orchestra, the currents and swellings of the waters are felt underneath the young bard's impassioned solo. His musicianship is rewarded with the love of the Sea King's daughter, who sings to him an extended aria filled with romantic love and desire. Both lyrical and passionate, her music is some of the most beautiful of the opera. It is contrasted by the lament in the following scene of Sadko's young wife, who fears that her husband no longer loves her. The vocal writing for this part is set lower, with the richer tones coloring the sadder mood of the music. Her music is also very beautiful, but now extremely human and broken hearted. The rest of the opera takes place over time, and the two contrasting worlds provide opportunity for adventure, spectacle, and miraculous happenings. --- Rita Laurance, Rovi
download: uploaded yandex 4shared mediafire solidfiles mega zalivalka filecloudio nornar anonfiles ziddu