Bach - Italian Concerto 4 Duettos 2 Partitas etc. [Rafal Blechacz] (2017)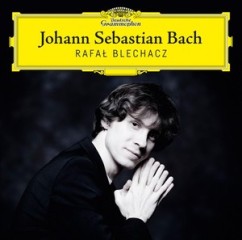 Italian Concerto In F Major, BWV 971
1.1. (Allegro)	3:53
2.2. Andante	4:56
3.3. Presto	3:33

Partita No.1 In B Flat Major, BWV 825
4.Prelude	1:48
5.Allemande	2:20
6.Courante	2:21
7.Sarabande	4:43
8.Menuet I & II		2:39
9.Gigue		1:57

4 Duettos
10.1. Duetto In E Minor, BWV 802	2:44
11.2. Duetto In F Major, BWV 803	2:42
12.3. Duetto In G Major, BWV 804	2:22
13.4. Duetto In A Minor, BWV 805	2:08

Fantasy And Fugue In A Minor, BWV 944
14.Fantasia	0:44
15.Fugue	4:26

Partita No.3 In A Minor, BWV 827
16.Fantasia	2:11
17.Allemande	3:44
18.Corrente	2:58
19.Sarabande	3:23
20.Burlesca	2:06
21.Scherzo	1:11
22.Gigue	3:01

Herz und Mund und Tat und Leben, Cantata BWV 147
23.Jesu, Joy Of Man's Desiring (Arranged For Piano By Dame Myra Hess)	4:03


Rafal Blechacz – piano

A new statement from Rafa Blechacz, one of the finest young pianists of his generation. Celebrated by his Chopin awarded recordings and cited by critics as one of those talents that only come along every few decades - has now turned to Bach
The now 31-year-old winner of the 2005 International Chopin Piano Competition, has been immersed in Bach since his childhood and has cultivated a strikingly natural eloquence in his mature interpretations of the composer's keyboard works.
This is the perfect album to show his versatility and fine knowledge of the works of the composer>
Rafal's interpretation flows not least from his formative experience as an organist. Young Rafa cut his musical teeth on Bach s principal instrument, playing organ for several years before turning full time to piano. In addition to playing for services at the main church in his hometown of Nak o nad Noteci , he also gave occasional recitals there long after becoming a pianist. I was fascinated by the organ, and many of my earliest musical memories are of listening to the organ in church, he recalls.
This album includes some real hit pieces like the Italian Concerto, one of Blechacz s signature pieces (... his reading was, above all, a model of textural transparency Portland Press Herald ), and the Partita No. 1 (... it was immediately clear from the first sweet, liquid notes that Blechacz is a musician in service to the music, searching its depths, exploring its meaning and probing its possibilities Washington Post ) or Jesu Joy of Men s Desiring
After a sabbatical in 2016 to finish his PhD in Philosophy in Poland, his schedule in 2017 will bring him to the USA, Spain, Germany, Switzerland, Austria, Canada, France and more. --- Editorial Reviews, amazon.com
download (mp3 @320 kbs):
yandex 4shared mega mediafire uloz.to cloudmailru uptobox ge.tt