Natalie Dessay - The Miracle of the Voice (2007)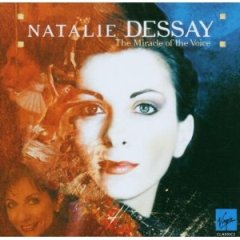 Disc: 1
1. Delibes: Lakmé- Où va la jeune hindoue (Bell song)
2. Offenbach: Les Contes d'Hoffmann- Les oiseaux dans la
3. Meyerbeer: Le Pardon de Ploërmel- Ombre légère4-5.            
4. Gounod: Roméo et Juliette- Ah! Je veux vivre dans le
5. Chabrier: Le Roi melgré lui- Il est un vieux chant de
6. Donizetti: La Fille du régiment- Salut à la France9-12.
7. Offenbach: Orphée aux Enfers- Duo de la mouche
8. Offenbach: Robinson Crusoë- Conduisez-mois vers celui      play

Disc: 2
1. Mozart: Popoli di Tessaglia!                                play
2. Handel: Delirio amoroso- Per te lasciai la luce
3. R. Straus: Ariadne auf Naxos- Groβmachtige Prinzessin
4. J. Strauss: Frühlingsstimmenwalzer
5. Rachmaninov: Vocalise
6. Alabiev: Salavieï (The Nightingale)
7. StravinskY: Le Rossignol- Song of the Nightingale            play
8. Ave Maria from the original soundtrack of the film `Merry
9. Monk/Nougaro: `Round Midnight'
10. Bernstein: Candide- Glitter and be gay

French soprano Natalie Dessay is one the stars of today's operatic world, thrilling audiences as both a singer and an actress. Now an admired interpreter of bel canto and lyric heroines such as Lucia di Lammermoor, Marie (La Fille du régiment), Amina (La sonnambula), Pamina (Die Zauberflöte), Manon, Juliette and Ophélie (Hamlet), Dessay originally made her reputation with showpiece coloratura roles such as Offenbach's Olympia, Mozart's Queen of the Night and Strauss' Zerbinetta. Born in Lyon, Natalie Dessay grew up in Bordeaux. She first dreamed of becoming a dancer, but later studied acting and singing at the Bordeaux Conservatoire. She progressed with extraordinary rapidity, completing five years' worth of study in just one year and graduating with First Prize at the age of twenty. In 1989, after a brief period in the chorus of the Théâtre du Capitole de Toulouse, she entered France's first Concours des Voix nouvelles and won second prize. This led to further studies at the Paris Opéra and to her first major engagements as a soloist.
In 1992 she sang her first Olympia in Offenbach's Contes d'Hoffmann at Paris's Opéra Bastille in a staging by Roman Polanski. The next year she was invited to the Vienna Staatsoper to sing Blondchen (Die Entführung aus dem Serail). In 1993 she was Olympia in the opening production for the rebuilt Opéra de Lyon and by 2001 she had performed the role in eight different stagings, including her debut appearance at La Scala. The 1990s also brought the Queen of the Night at Aix-en-Provence, Ophélie (Hamlet) in Geneva (she also sang the role at London's Royal Opera House and at Barceona's Liceo in 2003, where the production was filmed for a Virgin Classics DVD), Aminta (Die schweigsame Frau) in Vienna, Fiakermilli (Arabella) for her debut at the New York Met – followed by Olympia and Zerbinetta, Lakmé at the Opéra Comique – a role she recorded for EMI Classics with Michel Plasson, Eurydice in Offenbach's Orphée aux Enfers in Lyon (recorded for EMI Classics), and, in Paris, Morgana in Handel's Alcina and the title role in Stravinsky's Le Rossignol (also to be seen on a Virgin Classics DVD). Conductors for these appearances included Pierre Boulez, James Levine, James Conlon, William Christie and Marc Minkowski.
In 2001 the soprano's career entered a new phase when she realised a long-held ambition to perform Donizetti's Lucia di Lammermoor, a role she subsequently sang in 2004 in Chicago, in 2006 at the Bastille in a powerful staging by Andrei Serban, and in a new production for the opening of the New York Met's 2007-8 season. She also recorded the French version of the opera for Virgin Classics. More Donizetti, La Fille du régiment, provided a triumph for her in 2007 in Laurent Pelly's witty staging in both London and Vienna. Her first appearance as Bellini's La sonnambula came in 1998 in Lausanne, followed by performances in Bordeaux, La Scala, Vienna (with Juan Diego Florez), Santa Fe and her more recent interpretation of Amina was recorded during concert performances in Lyon in November 2006, for release by Virgin Classics in autumn 2007. 2004 also brought her debut as Massenet's Manon in Geneva; in autumn 2007 Virgin Classics releases a DVD of David McVicar's production from Barcelona, for which she is joined by Rolando Villazón as des Grieux.
Dessay signed her first exclusive contract with EMI Classics/Virgin Classics in 1994 and, in addition to the recordings already mentioned, her catalogue includes discs of Mozart (a collection of concert arias, another of opera arias and his Mass in C minor), songs and arias by Strauss, works by Handel and Monteverdi, and collections of French arias and Vocalises. Her 2-CD and DVD compilations "Le Miracle d'une voix" have proved an enormous success, selling over 250,000 copies, each documenting her prowess as a singer and as an actress. Further to this autumn's releases of La sonnambula , Massenet's Manon on DVD and, with Emmanuelle Haïm & Le Concert d'Astrée, Bach's Magnificat & Handel's Dixit Dominus, Natalie Dessay will release this coming winter a recital album of Italian Opera Arias by Bellini, Donizetti and Verdi with the Concerto Köln, under the direction of Evelino Pidò.
download: uploaded yandex 4shared mediafire solidfiles mega filecloudio nornar ziddu