Johann Melchior Molter - Concerti & Concertini (2003)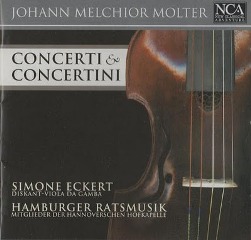 01 - Concerto A-Dur fur Diskant, Str & BC - Allegro
02 - Affettuoso
03 - Allegro
04 - Concertino A 4 D-Dur fur Traverso, Diskant, Str & BC - Moderato
05 - Allegro
06 - Menuetto I, II
07 - Concerto F-Dur fur Diskant, Str & BC - Allegro         play
08 - Largo
09 - Vivace
10 - Concertino A 4 E-Moll fur Traverso, Diskant, Str & BC - Moderato
11 - Allegro
12 - Menuetto I, II
13 - Sonata G-Dur fur Diskant, Vl, Vla & BC - Allegro
14 - Largo alla Siciliana                                  play
15 - Vivace
16 - Concero G-Dur fur Diskant, Str & BC - Moderato
17 - Adagio
18 – Vivace

Simone Eckert, diskant-viola da gamba
Hamburger RatsMusik

Johann Melchior Molter was a German Baroque composer and violinist. He was the son of a Kantor, and attended the Eisenach Preparatory School (Gymnasium) before entering the service of the Margrave Carl-Wilhelm of Boden-Durlach in Karlsruhe in 1717, working as a violinist. Here he married Maria Salome Rollwagen, with whom he had eight children. Studies of composition in Venice and Rome during 1719-1721 brought him into direct contact with Italian musicians such as Antonio Vivaldi and Alessandro Scarlatti.
Johann Melchior Molter was appointed to the post of court Kapellmeister (music director) in Karlsruhe in 1722. After the disbandment of the court orchestra at the end of 1733 as a result of the outbreak of the Polish War of Succession, Molter was appointed to the then vacant Kapellmeister's post at the court of Duke Wilhelm Heinrich of Saxe-Eisenach. He began his service in Eisenach during Easter 1734 and held this post until the dissolution of the Eisenach court in the summer of 1741. Maria died in 1737 and by 1742 Molter had married Maria Christina Wagner. In that year he returned to Karlsruhe and began teaching at the Gymnasium there. From 1747 to his death Molter was employed by Margrave Carl Friedrich of Baden-Durlach, the son of his first employer.
Johann Melchior Molter's surviving works include an oratorio; several cantatas; over 140 symphonies, overtures, and other works for orchestra (or 170 sinfonias, according to Answers.com); over 40 solo concertos (including some of the first clarinet concertos ever written); 21 orchestral sonatas (a genre unique Molter), other orchestral music and over 100 chamber works. His music reflects many influences and shows a move from late Baroque to galant style; imaginative instrumentation is often a feature. He also composed oratorios, cantatas and keyboard music. One of Molter's many Trumpet Concertos is the signature piece of C-SPAN's ---Washington Journal.
download: uploaded yandex 4shared mediafire solidfiles mega filecloudio